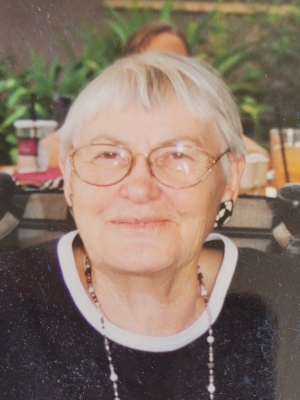 Majut Lieselotte (Candy) Carrell 1930-2021
Candy Carrell was a wife, mother, grandmother, daughter, sister, friend and most important, a devout Jehovah's Witness. She made many friends in the "Truth" and will be terribly missed.
Candy was born in Stuttgart, Germany to Eugen and Ellise (Alt) Zipperlen. She was the second of two children. Candy lost her mother when she was only eight years old, to illness. Her father remarried Karoline (Lina) Grater and she remained Candy's stepmother until her death in 1990. The family survived the Third Reich and World War II, including her brother Siegfried, who was forced to join the German Airforce. Her father was a Jehovah's Witness but did not allow the children to attend the house meetings for fear of their safety.
After the war and during the U.S. occupation, Majut worked at the American base. This is where she got the nickname "Candy" because she worked at the candy counter. It was during this time that she also met her husband, Sargent Edward Carrell. They met when she was walking her German Shepard dog. They discovered that they both had a great love for dogs (that would last late well into their later years).
Candy and Ed married in Germany and lived many happy years there, traveling all over Europe until Edward was stationed back in the United States. The Carrells and their young son, Stevan (Edward S.) relocated to different Army bases in the south until Ed's retirement in 1964. It was during this time that Candy became a U.S. citizen. The family chose Phoenix, AZ for their permanent home and bought their first house, where they stayed until 1976. They then followed their son to Wisconsin and bought 35 acres in Otter Creek where the family has remained to this day.
In 2013 Edward's health required that he live in a nursing facility and Candy soon joined her husband in the Neighbor's with adjoining rooms, until Edward's death in 2015. Candy spent her remaining years there, under the loving care of the Neighbor's staff, family, and the Menomonie congregation.
Candy's big heart and enormous capacity for love and kindness will live on. Her love for Jehovah will surely grant her a place in paradise.
She is survived by her son, Edward Stevan Carrell (Renee), her beloved grandson, Levi Daniel Carrell (Heather), and two great-grandson's, Casey Daniel, and Nolan Francis Carrell.
She is preceded in death by her father, Eugen Zipperlen, her mother, Ellise, her stepmother, Lina, her brother Siegfried, beloved Aunt, Emma Alt, and at least a dozen good dogs and six reasonably well-behaved cats
We sadly regret that there will be no public memorial, as the Menomonie Kingdom Hall is closed due to covid. There will be a private outdoor service for family later.