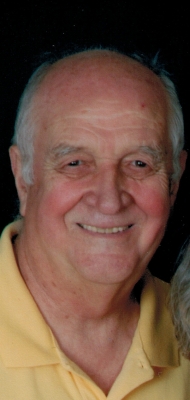 Donald George Scharlau, age 85, of Elk Mound, passed away on Thursday August 26, 2021 at his home in the Township of Elk Mound, surrounded by his loving family.
Don, the son of George and Idella (Schwartz) Scharlau, was born January 15, 1936, in rural Elk Mound. Don graduated from Elk Mound High School in 1953. He entered the U.S. Army, serving from 1958-1960 as an MP, and upon his return home settled at the farm his grandfather homesteaded in 1893. He married Kathleen M. Olson September 9, 1961, at St. John The Baptist Catholic Church in Cooks Valley. Six children were born to Don and Kathy: Theresa, Carolyn, Anne, John, Peter and Daniel.
Don was successful in a variety of ventures and had a true entrepreneurial spirit. He was a fearless optimist who was never afraid to set out on a new path. He owned and operated a number of businesses, but his passion was found in growing Christmas trees and greeting customers at Pleasant Valley Tree Farm. As he grew older, Don enjoyed making maple syrup, gardening, cooking and sharing the bounty with family and friends. He loved family gatherings and spending holidays with his children and grandchildren, where he could often be found napping in his chair after a large meal, despite the fact that there were over 60 boisterous family members surrounding him. In a true spirit of hospitality, Don and Kathy also opened their hearts and home to many of their children and grandchildren's friends, who became family to them.
Don's Catholic faith was the cornerstone of his life. He and Kathy lived their faith daily through their generosity towards others, be it in time or treasure. Never one to be idle in his "retirement", he was instrumental in founding Our Lady of Fatima School in India. Always giving 150% in every endeavor, he tirelessly worked to support the school through every means possible. He will always be remembered for his love of God and family.
Don is survived by his loving wife, Kathleen, his children: Theresa (James) Ruff, Carolyn (David) Loechler, Anne (Scott) Wahl, John (Christina) Scharlau, Peter (Lisa) Scharlau, Daniel (Robin) Scharlau, 39 grandchildren: Mary, Michael (Sarah) Wahl, Elizabeth (Brian) Deutscher, Katherine, Thomas, Joseph, Timothy, and Rebecca Wahl, Anthony Ruff, Matthew (Bechorah) Loechler, Theresa (Omar) Delgado, Christina (Jordan) Myers, Nicholas Loechler, Daniel (Tamika) Wahl, Gregory, Emily, William, Kevin, Grace, and Helen Wahl, Marianne, Andrea, George, Rachel, Jack, Benjamin, Anna, Kathryn, and Nora Scharlau, Jordan Faschingbauer, Lauren, Noah, Samuel, and Jacelynn Scharlau, Sarah (Alex), Christopher (McKenna), Jacob, Kaitlyn, and Matthew Scharlau, 12 great-grandchildren: Erin (Mason) Harmon, James, Jacob and Lucas Wahl, Dylan and Logan Deutscher, Angelina, Juniper and Chloe Loechler, Olivia Delgado, Xavier and Emelia Wahl, sister Arlene Huxhold, brother David (Mary Jo) Scharlau, sister-in-law Kay Olson; many other relatives and friends.
He is preceded in death by his parents, infant brother George; sister Bonita Knudson, brothers-in-law James Olson and Dennis Huxhold; stepmother Ethel Scharlau.
Mass of Christian Burial will be held at 11:00 AM Friday September 3, 2021 at St. Joseph Catholic Church in Elk Mound with Rev. Timothy Welles officiating. Burial will be at a later date at Evergreen Cemetery in Colfax.
Visitation will be held from 4:00 to 7:00 PM Thursday, September 2, 2021, at Rhiel Funeral Home in Menomonie and one hour prior to services at the church.
The family would like to thank St. Joseph's Hospice staff for the care and compassion they provided to Don at the end of his life.
In lieu of flowers memorials may be made to Our Lady of Fatima School in India.