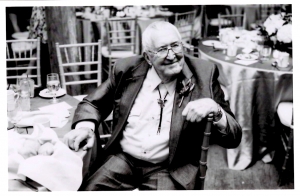 Elmer Dewane Knoepke, age 91, passed away on Wednesday, 9/29/21. He was born on March 1, 1930 in Colfax, the son of Gust and Minnie Knoepke. He married Geraldine Fehr on January 22, 1955 in Bloomer, WI.
Elmer graduated from Colfax High School. At age 19 he started as an employee at Durand Cooperatives, a farmer-owned co-op in Durand, WI. By age 23, he was the manager at the Beef River Co-op with branches in Strum, Osseo, & Eleva. In January 1962, he was enticed back to Durand to be the manager where he grew Durand Cooperatives to be the 2nd largest co-op in the state of Wisconsin and the 2nd largest producer for Cenex. In 1991, he retired to spend more time with family, and his wife Geraldine, in particular, since she had been fighting a slowly advancing breast cancer. They started their retirement with a trip to Alaska where they loved fishing both salmon and halibut. They enjoyed many winters in Apache Junction, Arizona, as well as traveling. After Geraldine's passing in March of 2007, Elmer sold his home in Durand and moved to a cabin in Chetek. He enjoyed his time there, sitting on the porch, fishing, and riding on the pontoon, until May 2019 when he sold his home to divide his time living with his 3 remaining children, Nancy & Doug, still in the Durand area, and Kris, in Mt Horeb. He spent the majority of his last year living with his daughter Kris and her husband, John Szalkowski, and grandson Sam.
Elmer was a guiding star to many who knew him. We will miss his wisdom and compassion expressed in measured words; the way he favored providing support or redirection over outright advice; and his melding of a disciplined and earnest approach to life with his great sense of humor and ability to have a good time. He told us often how much he loved his work managing the co-op and we saw how he enjoyed his rural life in the Lima township outside of Durand. We benefitted from his prioritization of family and enjoyment of the world over things. We are thankful for our times hunting, fishing, playing cards, listening to him play accordion and piano by ear, & traveling with him in addition to the times of sitting and having a thoughtful conversation. He enjoyed a beer and a brandy, sometimes with a toast of "Skål!" We are thankful he was able to enjoy one of his pleasures of taking in the summer's bounty with a BLT and peach pie in his last days along with a final toast of "Prost!"
Elmer is survived by his children Nancy Jevne (Jeff), Doug Knoepke (Toni), & Kristen Knoepke (John Szalkowski); grandchildren Amy Eastep (Mike), Becky Felling (Tony), Jeffrey Jevne (Sifia), Greg Knoepke (Kelly), Paul Knoepke (Melanie), Corey Knoepke (Beth), Karissa Sanchez Traun (Sergio), Ben Traun (Sarah Kraemer), & Sam Szalkowski; his great grandchildren Cole, Caleb, & Emma Eastep, Austin and Ethan Felling, Andrew, Matthew, & Grace Jevne, Brandon & Kaylynn Knoepke, Connor & Grant Knoepke, Michael & Maxwell Knoepke, Amalia and Balam Sanchez Traun, & Mila and Emmett Traun; sister-in-laws ; brother-in-laws and many nieces and nephews, friends and neighbors.
He was preceded in death by his wife, Geraldine Knoepke, oldest son, Brett Knoepke, and other close friends and family members.
Elmer was a charter member of Faith Lutheran Church in Durand and, later, a member of Chetek Lutheran.
A memorial service is planned for Saturday, October 9, 2021, at Faith Lutheran Church in Durand, Wisconsin. Visitation will be from 9-11:00AM with service at 11:00AM, followed by lunch. In lieu of flowers, donations can be made to Agrace Hospice in Fitchburg, Faith Lutheran Church in Durand, Chetek Lutheran Church, or Durand Area Food Pantry.
Rhiel Funeral Home & Cremation Services, Durand, is assisting the family.