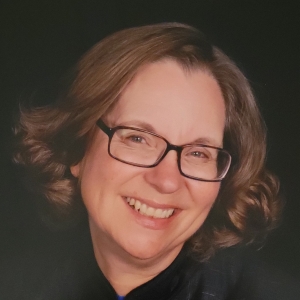 Nancy Ackerman Schofield, age 72, of Menomonie, Wisconsin died on Tuesday, October 5, 2021, at home surrounded by her family.
Nancy Lynn Ackerman was born on July 30, 1949, in Albany, NY. She was a "double PK", as her parents, William Ackerman and Louise (Rodgers) Ackerman, were both ordained ministers. Nancy grew up in El Paso, TX, North Little Rock, AR, Fort Worth, TX, and Mount Lebanon, PA. She graduated from Mount Lebanon High School in 1967.
Nancy first became acquainted with computers as part of her membership (as the only female) in Mount Lebanon's Math Club. That began her lifelong interest in, and fascination with, computers. She felt that she had been, in a very real sense, "present at the creation" of the digital age.
Nancy received her Bachelor of Arts in Mathematics from Grinnell College in Grinnell, IA in 1971. She married Ken Schofield, also a 1971 graduate of Grinnell College, on campus the day after graduation.
Nancy and Ken moved to Madison, WI where Ken attended the University of Wisconsin Law School and Nancy worked as a computer programmer for the University of Wisconsin's Institute for Research on Poverty. Nancy and Ken later moved to Menomonie, WI in 1977 and never left. Nancy received a Master of Science in Clothing, Textiles and Related Arts from UW-Stout in 1979 under the tutelage of her major professor and dear friend, Ken Heintz. Nancy received this degree just a few days before she delivered her first child, David. Nancy and Ken welcomed their second child, Blake, in 1982.
Nancy taught intermittently in the Home Economics department from 1979 to 1998. She commenced a doctoral program at the University of Minnesota in 1994. At various times, she was simultaneously an instructor at UW-Stout, a teaching assistant at the University of Minnesota and a student at the University of Minnesota. Nancy received her Doctorate from the University of Minnesota in Design, Housing and Apparel in 2000. Nancy's dissertation was a seminal study entitled "Investigation of the Pattern Grading Assumptions Used in the Sizing of U.S. Women's Clothing for the Upper Torso". Her thesis and subsequent articles in professional journals are still being referenced in professional publications. By the time that Nancy completed her Doctorate, she was teaching classes in UW-Stout's College of Engineering, Technology and Management (CTEM). She taught an array of computer aided design courses full time from 1998 to 2013. After retiring as a full professor in 2013, Nancy continued to teach part time until 2015.
In addition to her teaching in CTEM, Nancy took seriously her role as a mentor to women engineering students, including being faculty advisor for the Society of Women Engineers (SWE). She was also involved with the annual STEPS Summer Program at UW-Stout. She also took her responsibilities very seriously as a member or chair of several difference-making committees at UW-Stout. She enjoyed her role (with Jean Price) as "social director" for CTEM. Nancy was fiercely loyal to, and supportive of, her CTEM colleagues. She did not call herself "Dr. Momma Bear" for nothing.
But that wasn't all that Nancy was. Indeed, many have commented that Nancy was the most highly developed left brain (analytical/methodical) and right brain (creative/artistic) tandem that they had ever known. Her right brain power was evidenced by her creative mind and her beautiful hands that were never, not ever, at rest. The number of projects that were in progress at any one time was staggering. Her projects included weaving, quilting, crocheting, knitting, sewing, beading, and costuming. Nancy's unstated catchphrase was "good enough is never good enough". Although her hands are now permanently at rest, her friends and family will continue to benefit from her creativity.
Nancy threw herself heart and soul into many activities including working in her children's elementary and middle schools, League of Women Voters, Master Gardeners, City of Menomonie Urban Forestry Board, Stepping Stones garden tour, Dunn County Historical Society's Fulton's Workshop and so many other community activities. She was never a passive participant.
Nancy had a very real need to know more about … everything. She was known as "20 Questions". She ended the dedication of her doctoral thesis as follows: "I am very grateful to have had the luxury of this time to spend in learning and seeking answers. This research has truly been a pursuit of my best twenty questions."
Nancy was preceded in death by her parents. She is survived by her husband of 50 years, Ken; her sons David (Diane) Schofield of Menomonie, WI and Blake (Jessica) Schofield of Fort Myers, FL; her grandchildren Kate and Annie of Menomonie, WI and Finlay and Harper of Fort Myers, FL; her brothers Alan (Betsy St. Aubin) Ackerman of Berkeley, CA and George (Diane Grove) Ackerman of Kent, OH; and her nieces Clara Ackerman of Berkeley, CA and Esther (DJ Manshardt) Ackerman of Lakewood, CO.
A Celebration of Life will be held at First Congregational Church, 420 Wilson Avenue, Menomonie, WI on Saturday November 6, 2021, at 2:00pm. Visitation will be one hour prior to the service in the Church's Fellowship Hall. A reception will follow thereafter. The Celebration of Life will be live streamed at http://www.menomonieucc.org/ for those that cannot attend in person.
The family would like to thank St. Croix Hospice, the doctors and staffs at the Mayo Clinics in Menomonie, Eau Claire and Rochester for their care, concern and quality of service during Nancy's last journey. However, Nancy and Ken wanted to especially thank her oncologist, Dr. Siddhartha Yadav of Mayo Clinic in Rochester, for his above and beyond the call of duty medical care, time and humanity.
In lieu of flowers, donations may be made to Stepping Stones of Dunn County, Dunn County Historical Society (for Fulton's Workshop) or Bridge to Hope, all in Menomonie.