Katherine "Kay" J. Thibado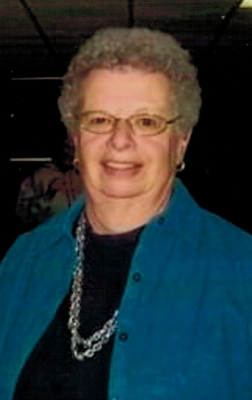 Katherine "Kay" J. Thibado, age 78 of Menomonie, died Wednesday October 6, 2021 at Mayo Clinic Health System in Eau Claire.
Kay was born December 22, 1942, on the home farm in the Township of Eau Galle, Dunn County. She was the daughter of Kenneth and Regina (Schwebach) Taplin. Kay grew up the Elmwood area, graduating from Elmwood High School. After high school, Kay attended the Technical School in Eau Claire in the Data Entry program. Kay worked at St. Joseph's Hospital in St. Paul, MN for more than 20 years. She married Robert C. Thibado November 30, 1963, in Elmwood. Kay also worked for Menomonie School District, working in Dietary until she retired.
Kay as an active member of Sacred Heart Catholic Church in Elmwood. She enjoyed working in her garden, doing seek and find puzzles, going out for Friday Fish fries and spending time with family and friends.
Kay is survived by her daughter, Ann (Dave Lofgren) of Elmwood; a brother, Robert (Roxanne) Taplin of Elmwood; three sisters-in-law, Mildred (Roland) Kistner, Connie (James) Newman and Opal Thibado; several nieces, nephews and other relatives and friends.
She is preceded in death by her parents, husband Bob in 2018.
Memorial services will be at 11:00 AM Saturday October 23, 2021, at Sacred Heart Catholic Church in Elmwood with Rev. Amir Stanislaus officiating. Burial will be in the church cemetery.
Visitation will be held from 9:00 AM until the time of the services at the church on Saturday.
In lieu of flowers memorials may be made to the Elmwood Public Library, or to a charity of the donor's choice.