Geraldine "Gerry" E. Krueger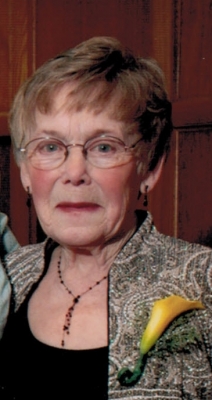 Geraldine "Gerry" E. Krueger, age 89 of Elmwood, formerly of Menomonie, passed away on Wednesday October 13, 2021, at the Heritage of Elmwood Nursing Home in Elmwood.
Gerry was born April 25, 1932, in Downing, WI. She was the 2nd oldest of nine, of Harry and Nellie (Eggman) Thompson. As a young child the family moved frequently but she grew up mostly in the Wilson, WI area. Gerry graduated as Salutatorian from Spring Valley High School in 1950. After high school, Gerry worked at Sanna Dairies for a few years. Gerry married Herb Krueger March 6, 1952, in Wilson. Gerry was a farm wife for twenty-five years and then went on to LPN School in Eau Claire, graduating in 1976. She started her nursing career at Memorial Hospital/Myrtle Werth in Menomonie. In 1980, Gerry went on to RN school in White Bear Lake Community College and graduate with her RN Degree in 1982. She continued working at Myrtle Werth for several years. She continued working as an RN at the VA Hospital in Minneapolis for approximately 10 years. Gerry also worked at the Dunn Co. Health Care Center for approximately six years.
While working, Gerry always had time to help with her grandchildren and graduated Cum Laude from U. W. Stout with her degree in Psychology.
Gerry was active member of the Wilson Lutheran Church, serving on several various boards. Gerry loved to travel, she went to Russia twice, Hungry, Croatia, China twice, Norway, Great Britain, Europe, Mexico, Canada, a canoe trip into the Boundary waters, and all over the U.S. She loved her flower gardens, belly dancing-to help with her back, reading, and sewing.
Gerry is survived by her daughter, Barb Knopps of Menomonie, Brian Krueger of Menomonie; grandchildren, Mary Kay (Chad) McVey, Kari (Levi) Lentz, Terry Hochstetter, Dana Lahti, Steven Krueger; adopted granddaughter, Samantha (Jason) Hoyt; 11 great grandchildren; three sisters, Lillian Riedel, Colleen Slama and Carol Brown and one brother Tom Thompson, many nieces, nephews other relatives and friends.
She is preceded in death by her parents, husband Herb, a daughter Lynn Lahti, grandson, Kyle Krueger; a sister Irene Engstrom, three brothers, Ronnie, Galen & Randy Thompson.
Funeral Services will be held at 11:00 AM Wednesday October 20, 2021 at the Wilson Lutheran Church in rural Wilson with Rev. Robert Dahm officiating. Burial will be at a later date in the church cemetery.
Visitation will be held one hour prior to services at the church on Wednesday.