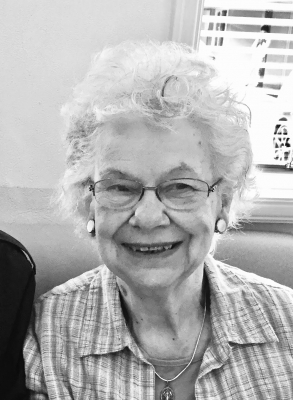 Darlene M. Bauer, 85, of Durand, WI went home to the Lord on October 13, 2021, the date of the last public appearance of the Virgin Mary in Fatima, Portugal and the day of the Miracle of the Sun. Darlene passed away in her home with her devoted husband of 65 years, beside her.
Darlene was born on June, 3, 1936 in Plum City. She was the daughter of Paul and Hazel Caturia (Martin). Darlene grew up on the family farm in Arkansaw and graduated from Arkansaw High School. After school, Darlene was employed at Durand Produce. Darlene married Arnold B. Bauer on October 3, 1956 at the Arkansaw St. Joseph Catholic Church. After marriage they lived in the Durand, where they raised their four children.
Darlene loved spending time with her children, grandchildren and great grandchild. She also enjoyed gardening, arranging flowers, painting, cooking, dancing and praying. She relished spending time with family and friends. She also volunteered and served as a Religious Education teacher at St. Mary's in Durand.
The family would like to thank the St. Croix Hospice for all of their loving care of Mom in these last three months.
Darlene is survived by her husband of 65 years, Arnold; four children: Robert (Cindy) Bauer of Plymouth, MN, Charles (Janice) Bauer of Snellville, GA, Duane (Gina) Bauer of West St. Paul, MN, and Debbie Bauer (The Society of Apostolic Life "Consecrated Women of Regnum Christi") of Dallas, TX; one brother-in law, Larry Seipel of Inver Grove Heights, MN, one sister-in law, Marilyn Caturia of St. Paul Park, MN, 9 grandchildren, 1 great-grandchild, nieces, nephews and other relatives and friends.
Darlene is preceded in death by her parents, two brothers; Bernard (Charlotte) Caturia and William Caturia, and two sisters, Delores (Gerald) Fedie and Margaret Seipel.
Darlene shared her love for life with her friends and family. Her faith and love for her husband, "Arnie", was an inspiration to many.
Funeral Services
Funeral Mass will be 11:30AM Friday, October 22, 2021 at St. Mary's Catholic Church in Durand. Burial will be in the church cemetery.
Visitation
Visitation will be 4:00PM-7:00PM Thursday at the Rhiel Funeral Home in Durand, with a Vigil Service at 7 PM. Visitation will also take place one hour prior to services at the church on Friday.
The family asks in Lieu of flowers: Please send a donation to one of the following in honor of Darlene's Memory, St. Mary's Assumption Parish and/or Consecrated Women (her daughter's religious order -Society of Apostolic Life).
Rhiel Funeral Home & Cremation Services, Durand, is serving the family.