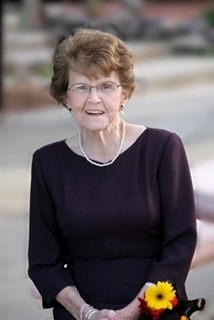 Sadie Cleo (Paulson) Hagness passed away peacefully on Tuesday, October 19, 2021 after 98 years of living an incredibly full and happy life.
Sadie was born to Arthur Emil and Palma Christine (Peterson) Paulson on May 15, 1923 in the town of Gilmanton, Buffalo County, Wisconsin. Sadie attended school in Gilmanton through 8th grade. She would have loved to have attended high school and had dreams of becoming a teacher someday. However, since there was no way for her to get to town, she found employment caring for others, first, as a babysitter and, later, working in a hospital. She married the love of her life, Bert Hagness, on November 18, 1945 at Central Lutheran Church in Mondovi. They started their life together in Mondovi where they welcomed their 3 wonderful children before moving to Durand in 1958.
Sadie's greatest joy was always her family and friends. She loved and was so proud of her grandchildren and great grandchildren. She felt blessed to be their Grandma. She, in turn, has been a blessing to hundreds of people. She touched everyone she met with her heart of gold and of course her cookies! She was a faith-filled woman of God, always putting others' needs and feelings first. She was a role model of what compassion, understanding, and love should look like.
When Sadie became your friend, she was a friend for life. She enjoyed meeting new people, playing cards, baking cookies (known as the 'cookie lady'), quilting, knitting, making krumkake and lefse, and wintering in Arizona. She was a charter member of Faith Lutheran Church in Durand and remained active and dedicated from that point on. She volunteered at the nursing home in Durand for over 30 years. She was the first Welcome Wagon Lady in Durand. She was an active member of the Durand Women's Club for over 50 years. She spent the last 6 years of her life happily cared for and loved by The Home Place staff. She often said what a perfect place it was for her. Her positivity never failed. Heartland Hospice provided additional loving care for the last 3 years.
Sadie is loved and will be greatly missed by her family, including her sons, Larry (Vicki) Hagness of Durand and Rick (Sandy) Hagness of Durand; daughter, Jan (Casey) McChesney of Phoenix; her beloved grandchildren, Kyle, Luke, Cole, Ryan, Jake, Ted, and Samantha; great-grandchildren, Ainsley, Kendall, Alex, Noah, Landon, Lilly, Lanny, Lucy, Dylan, Leah, and Macy; her sister, Carol (Robert) Wulff; and many nieces and nephews. Sadie is preceded in death by her parents; her husband of 59 years, Bert Hagness; and her brother, Jerry Paulson.
Funeral Services will be 11:00AM Tuesday, October 26, 2021 at Faith Lutheran Church in Durand with Rev. Bethany Walker officiating. Burial will be in the Forrest Hill Cemetery in Durand. Visitation will be from 4:00PM-7:00PM Monday at the Rhiel Funeral Home in Durand and one hour prior to services at the church on Tuesday.
Memorials are preferred in Sadie's name to Faith Lutheran Church.
"When someone you love becomes a memory, that memory becomes a treasure." She is truly a treasure that will never be forgotten.
Rhiel Funeral Home & Cremation Services, Durand, is serving the family.