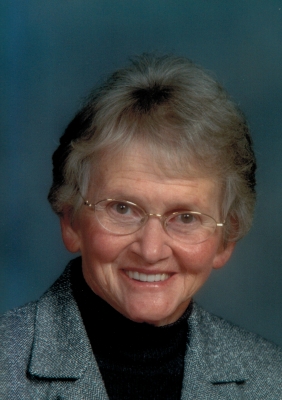 Teresa Stark-Halvorson, age 88, of Menomonie, passed away on Tuesday, October 19, 2021 at American Lutheran Home in Menomonie, under the care of Mayo Home Health Hospice.
Teresa was born May 11, 1933 to Robert and Martha (Schollmeier) Dalle. She was the first of three daughters. Teresa attended a country school until the sixth grade, then finished grade school at St Joseph's Catholic School. She graduated from Menomonie High School in 1951. She worked at WW Dray Line, Sandy Lee Mfg., and when the children were old enough to be in school, she worked at Red Cedar Clinic (n/k/a Mayo Heath System) for 28 years. After retiring she volunteered at Mayo Clinic and St. Joseph Parish, she installed many Life Line units in homes, and read books to Head Start children.
Teresa married her first love, Edwin "Ed" Stark on May 14, 1952. Their first home was the Stark farm, from there they moved to Menomonie, WI in 1957, and then out to Lake Tainter in 1972. They had 53 wonderful years together until his passing in May 2005. They enjoyed spending time with family and friends, living on the lake, having a garden, apple trees, blueberry bushes and a pumpkin patch for the grandchildren and years of golfing at Whitetail Golf Course.
Teresa married her second love, Harry Halvorson on December 27, 2008. He passed away in December 2013. They enjoyed each other's families, music, going for rides and dining out. With him, she experienced her first jet airplane ride to attend the Brewers spring training games in AZ. She watched his Freedom Honor Flight take off and come back to a hero's welcome.
She looked forward to the camaraderie when getting together with her classmates, retirees, lady homemakers, coffee and wine groups. She liked to read, watch the evening news, and play piano. She treasured time spent with family, pontoon rides, trips to other states, and going to the activities of the grandchildren and great grandchildren.
Teresa is survived by her five children, Debra (Mark) Hintz, Diane (Dan) Leland, Joan (Tom) Spagnoletti, Ruth (Bruce) Retzloff, and Kevin Stark (Alicia). Step daughter Karla Halvorson (spouse Gary Natysin), and step son-in-law, Bob Falk. Daughter-in-law, Carolyn Stark. 12 grandchildren, April (Brian) Bernhardt, Nathan (Becky) Leland, Nick Leland (Kayla), Joe (Alecia) Spagnoletti, Amy (Mohammad) Al-Hashlamoun, Mike Spagnoletti, Jodi Retzloff (Rodger), Cory Retzloff (Mackenzie), Ricca Retzloff (Ryan), Curtis (Kelsey), James (Avery) and Russell (Malayna) Stark; 17 great grandchildren and another due in February, and four step great grandchildren; a sister, Rita Schumacher and two sisters-in-law, Delores and Eileen Stark.
Teresa was preceded in death by her parents, husbands, a sister, Mary Dalle; infant granddaughter, Anna Stark; infant great grandson, CJ Stark; step daughter, Karen Halvorson-Falk; brothers and sisters-in-law, Frank Schumacher, Valjean (Gladys) Ninas, Norman (Mabel) Ziehl, Ralph and Walter "Bud" Stark.
The family would like to thank the staff of Autumn Village Assisted Living, American Lutheran Home and Mayo Home Health Hospice, for the compassionate care given to Teresa.
Mass of Christian Burial will be celebrated at 11:00 AM, Saturday, October 30, 2021 at St. Joseph Catholic Church in Menomonie with Fr. Mano officiating. There will be visitation at the church one hour prior to the service.
Interment will be at Sherman Cemetery at a later date.
In lieu of flowers, donations to St. Joseph Catholic Church, 910 Wilson Ave., Menomonie, WI 54751 or a charity of your choice are preferred.