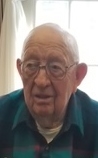 Everett W. Wolf, age 96, of Chippewa Falls, formerly of Eau Claire and Menomonie, passed away three days shy of his 97th birthday, at the Veterans Home in Chippewa Falls on Wednesday November 3, 2021, surrounded by his loving family.
Everett was born November 6, 1924, in the Township of Weston, Dunn County. He was the son of Henry and Lesla (McRoberts) Wolf and grew up in the Eau Galle area. He graduated from Menomonie High School in 1942. Everett proudly served his country in the U. S. Army during WW II, from 1944 to 1946. Everett married Darlene Krueger July 17, 1950, at St. Joseph Catholic Church in Menomonie. After marriage they farmed and raised their six children. Everett also worked for the Dunn County Highway Dept for 40 years, retiring in January of 1987.
Everett enjoyed getting together with his family and family events. He was loved and endeared by all.
Everett is survived by five children, John (Eileen) of Menomonie, Gordon (Julie) of Brooklyn Park, MN, Charlene (Kim) Lynum of Eau Claire, Roger (Deb) of Fulton, IL, Ron (Melissa) of Huntington Beach, CA, a daughter-in-law, Louise Wolf of South Yarmouth, MA; ten grandchildren, Ruth Ann (Randy) Rohlf, Jo Ann Wolf, Lesla Wolf, Carole Mitev, Tim (Brielle) Wolf, Chris (Amanda) Wolf, Kara Lynum, Erin Lynum, Carter (Hayley) Wolf, Grant Wolf, and 10 great grandchildren; several nieces, nephews other relatives and friends.
He is preceded in death by his parents, his wife Darlene, a son Jerry.
Funeral Services will be at 11:30 AM Friday November 12, 2021, at St. Joseph Catholic Church in Menomonie with Rev. John Mano officiating. Burial will be in the church cemetery.
Visitation will be held from 4:00 to 7:00 PM Thursday at Rhiel Funeral Home in Menomonie and one hour prior to services at the church on Friday.