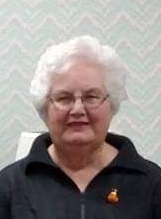 Jean M. Bechel, age 75, of Elmwood, passed away on Wednesday November 10, 2021, at the Heritage of Elmwood Nursing Home in Elmwood.
Jean was born January 21, 1946, in Menomonie. She was the daughter of George and Nellie (Tubbs) Metzger. Jean was raised in Menomonie and graduated from Menomonie High School in 1965. Jean worked at Sandy Lee Mfg. for a short time. Jean married Patrick Bechel July 8, 1967, in Menomonie. After marriage they lived in Plum City for a short time before making their home in Elmwood. Jean had an -in-home day care provider for several years. Jean also managed the Glen-Dor laundromat for many years. Jean also worked as home health aide for Pierce County Health Dept.
Jean was active in Sacred Heart Altar Society, American Legion Post 207, Women's Auxiliary, and Homemakers club. Jean enjoyed reading and she belonged to a book club in Menomonie.
Jean is survived by her husband, Pat; two children, Melissa (Jonathan Dahl) Bechel of Menomonie; John Patrick Bechel of Elmwood; a grandson, Aaron (Trinity), and great grandson, Declan; a brother, Richard (Leona) Metzger of Menomonie; three sisters, Esther Beguhn of Oconomowoc, Margaret Trafford of Janesville, Eleanor Brehm of Menomonie; sister-in-law, Elaine Metzger, several nieces, nephews, other relatives and friends.
She is preceded in death by her parents, two brothers, Harold and Raymond Metzger, two sisters, Mabel Morse and Georgia Beguhn.
Memorial Mass will be held at 11:00 AM Friday November 19, 2021, at Sacred Heart Catholic Church in Elmwood with Rev. Amir Stanislaus officiating. Burial will be in the church cemetery.
Visitation will be held from 4:00 to 7:00 PM Thursday at the Rhiel Funeral Home in Elmwood and one hour prior to services at the church on Friday.