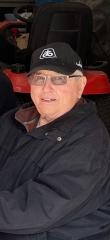 Arnold A. "Arnie" Spindler, age 87 of Durand, died Tuesday, December 8, 2021 at Marshfield Hospital in Eau Claire with his family by his side.
Arnie was born on August 31, 1934 in Durand, he was the son of Edward and Anna (Weisenbeck) Spindler. He grew up on the home farm and graduated from Durand High School. After high school, Arnold was drafted into the U.S. Army during the Korean Conflict. After being honorably discharged, Arnie attained a bachelor's degree in business at UW-Eau Claire. Arnold married Marlene Vera "Monie" Bauer on August 12, 1959 at St. Mary's Catholic Church in Durand. After marriage, he farmed and raised his family in the Town of Durand.
Arnie was involved with Knights of Columbus, served as chairman for the town board and on the Durand Rural Fire Department for many years. He enjoyed going boating, skiing, hunting, going out to eat, going to the casino and talking with family and friends.
Arnold is survived by his children, Lori (Tom) McDonough of Plum City, Lynn (Jeff) Ebensperger of Pepin and Lee (Brenda) of Durand and Ron (Kathy) of Milford, MI; eight grandchildren, Trista (Brian), Brett, Stephanie, Amanda, Caitlyn, Anthony, Joe and Abby; eight great grandchildren, special friend and companion, Janet White of Eau Claire; nieces, nephews, other relatives and friends. He is preceded in death by his wife, Marlene "Monie" Spindler in 1970; parents, and four brothers, Clarence, John, Hubert and Wayne.
A Prayer Service will be held at 3:30PM Tuesday, December 14, 2021 at the Rhiel Funeral Home in Durand. Burial will be in St. Mary's Catholic Cemetery at a later date. Visitation will be from 4:00PM-7:00PM Tuesday at the Rhiel Funeral Home in Durand.
Rhiel Funeral Home & Cremation Services, Durand, is serving the family.