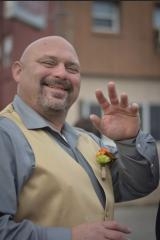 Anthony W. "Tony" Cripe, age 55 of Arkansaw, died Monday, December 13, 2021 at Sacred Heart Hospital in Eau Claire with his wife by his side after a long battle with cancer.
Tony was born on August 13, 1966 in Arkansaw. He was the son of William and Pat (Caturia) Cripe. Tony grew up in Arkansaw and graduated from Arkansaw High School. After high school, Tony began his lifelong journey in concrete and masonry. He spent the majority of his career at Ross and Associates in River Falls. Tony also operated his own business, D&T Concrete on the side. Tony married Dawn Haefner in September of 2006. After marriage, they lived in Arkansaw in the house that Tony built with his own hands. Most recently, Tony and Dawn moved to Tilden.
Tony loved his family and treasured the title of "Papa". He enjoyed sharing his knowledge of concrete with anyone who would listen.
Tony is survived by his wife, Dawn; children, TJ (Annita) of Plum City; Justin of Eau Claire; Josh (Nicole) of Sun Prairie; Jacob of Tilden and Dalton of Wabasha, MN; grandchildren, Willow; Gregory; Beau; Dexter; Aiden and Nadine, father, William; two sisters, Rebecca (Gene) Heath of Florida and Jessica (Jason) Eccles of Star Prairie; one brother, Jason of River Falls; nieces, nephews, other relatives and friends. He is preceded in death by his mother, Pat Cripe and a niece, Brittany Heath.
A Celebration of Life will be Friday, December 17, 2021 from 4:00PM – 8:00PM at Molly's on Main in Plum City.
Memorial Mass will be 10:00AM Saturday, December 18, 2021 at St. Mary's Catholic Church in Durand. Burial will be in St. Joseph's Catholic Cemetery in Arkansaw at a later date.
Rhiel Funeral Home & Cremation Services, Durand, is serving the family.