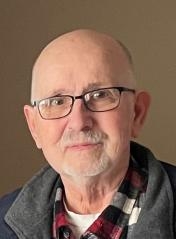 Douglas (Doug) Knudsen, age 71 of Durand died Wednesday, December 15, 2021 at home after a courageous battle with cancer with his family by his side.
Doug was born on April 5, 1950 in Carroll, Iowa. He was the son of Warren and Betty Knudsen. Doug and his family moved to Willard, Wisconsin in 1958 and he graduated from Greenwood High School in 1969. Doug married Diane Broberg on July 7, 1973 at Rock Creek Lutheran Church. After marriage Doug and Diane lived in Iowa for two years before returning to the Durand area to raise their family.
Doug is survived by his wife of 48 years, Diane and his children, Trent Knudsen, Kendra (Nick) Weber, Ana-Luisa (Andre) Ceolin; seven grandchildren, Haylee and Kelsey Knudsen, Addysen, Rylee, and Cooper Weber, Rafaela and Antonio Ceolin; sisters Rosalie Wiand and Wanda (George) Eitland; brothers Larry (Donna) Knudsen, Craig (Deb) Knudsen, Curtis (Sandy) Knudsen, Paul (Tami) Knudsen; Sisters-in-law: Brenda (James) Bauer, Linda Kerkhoff, Becky (Pete) Richardson, Colleen (Randy) Weiss, Caryl (Randy) Keys; Brother-in-law: David Broberg (Jim Sass); Father-in-law: Stanley Broberg; many nieces, nephews cousins, and friends. He is preceded in death by his parents, mother-in-law, Doris Broberg, brothers-in-law Mark Kerkhoff and David Lien.
Doug loved to fix and tinker with things and was fortunate to be able to make a life-long career of it. He worked at the Durand Co-op for 21 years and Black's Valley Ag for 15 years before retiring in 2012.
Funeral services will be 11:00AM Monday, December 20, 2021 at Faith Lutheran Church in Durand. Rev. Bethany Walker will officiate. Visitation will be from 4-7 p.m. on Sunday, December 19 at Rhiel Funeral Home in Durand and one hour prior to the services at the church on Monday.
Rhiel Funeral Home & Cremation Services, Durand, is serving the family.