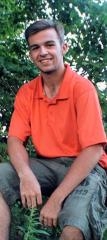 Alijah J. Reinhardt, age 22 of Plum City, died unexpectedly Friday, December 17, 2021 at his home in Plum City.
Alijah was born on October 12, 1999 in Durand. He was the son of Gerald "Butch" and Jeannie (Larson) Reinhardt. Alijah grew up in the Arkansaw, Porcupine Valley and Plum City area. He graduated from Plum City High School in 2018. After high school, Alijah took a job for Phillips Medisize in Menomonie, where he worked until recently.
Alijah enjoyed baseball, whether it was watching or playing. He also liked spending time outdoors, hunting, fishing, 4-wheeling, snowmobiling, celebrating the 4th of July and spending time at the family farm. Alijah enjoyed trips to Montana to see family and special fishing trip to Wyoming with family and friends.
Alijah is survived by his parents, Butch and Jeannie of Plum City; siblings, Alexis and Aliyas, both at home; exchange student sister, Manon "Frenchie" Luquand of France; maternal grandfather, Gordy Larson of Arkansaw; maternal uncle and aunt, Jeremy Malori Larson of Arkansaw; paternal uncle and aunt, Paul and Kathy Bechel of Plum City; cousins, Azalyn Larson; Laura Bechel; and Michael (Adrienne) Bechel; great aunts and uncles, Patty Reinhardt; Joyce Komisar; Gary and Edith Ruff and Myrna and Dale Johnson; other relatives and many friends. He is preceded in death by his maternal grandmother, Linda (Ruff) Larson and paternal grandparents, Gerald and Elda Reinhardt.
A Celebration of Life will be held at the Orton Room at the Corral Bar & Restaurant in Durand on Sunday January 2, 2022 from 2:00PM-5:00PM.
Rhiel Funeral Home & Cremation Services, Durand, is serving the family.