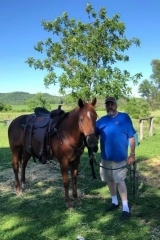 Bryce D. Johnson, age 58 of Durand, died Friday, December 24, 2021 at Sacred Heart Hospital in Eau Claire after a courageous battle with interstitial lung disease, with his family by his side.
Bryce was born on November 9, 1963 in Minneapolis. He was the son of Douglas and Beverly Johnson. Bryce grew up in Burnsville and graduated from Burnsville High School in 1982. After high school, Bryce drove school bus for a short time before transitioning to an over the trucker. He drove for Northstar Trucking for several years before buying his own trucks. Bryce then took a job dispatching for Allstate Trucking, later becoming a Transportation Supervisor at DHL Supply Chain. Bryce married Susan on August 16, 2005 in Shakopee, MN. After marriage they moved to Arkansaw where Bryce continued to work for DHL. In 2012, Bryce and Susan had their marriage blessed at St. Mary's Catholic Church in Durand. Later they moved to their current residence in Durand, where Bryce remained the rest of his life.
Bryce loved to spend time with his family, especially his grandchildren. He enjoyed working on and with computers. Bryce liked spending time with his horses on the farm, spending time at the "the woods" and shooting all sorts of firearms. He had a special bond with his lifelong friend and dog, Scruffy.
Bryce is survived by his wife of 16 years, Sue; stepchildren, Melissa (Albert) Aszmann; April (Brady) Boigenzahn; Nate (Jinae) Besmer; Ryan Reller; Becky Hamilton and Zachary (Janelle) Besmer; 17 grandchildren, three brothers, Boyd (Robin) Johnson; Chad Johnson and Troy Johnson, nieces, nephews, other relatives and friends. He is preceded in death by his parents and grandparents.
A Celebration of Life will be held at a later date. A Go Fund Me has been organized to help pay for medical bills and needs for the farm, https://www.gofundme.com/f/bryce-and-sue-needs-your-help?qid=4897a7716b82bbbd2a78bd95c2b4932e.
Rhiel Funeral Home & Cremation Services, Durand, is serving the family.