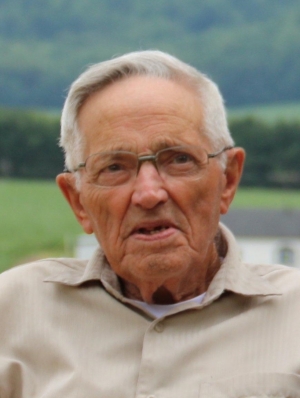 Jerry (Jerome) Allen Bauer age 88, of Durand, WI, died peacefully on Friday December 31, 2021, at his home in the Township of Lima, rural Durand surrounded by his family.
Jerry was born on July 22, 1933, in the home of his parents in the Township of Lima. Jerry was the son of Allie F. and Marion (Komro) Bauer and grew up in the Lima community. Growing up Jerry's nickname was 'Pie' due to his love of pie. Jerry married Arlene (Mildred) Kitchner on June 1, 1954, at Holy Rosary Catholic Church-Lima, Durand, Wisconsin. After marriage they made their home in the Township of Lima where they farmed together and raised their family. Jerry worked at Gilmores/ Roger's IGA grocery store in Durand and then worked as a foreman on the Pepin County Highway Department. In 1976 he left the County and took over the family farm. In 1978, Jerry was proud to receive a Century Family Farm certificate. After Jerry retired and sold the farm, he worked at the Durand Co-Op and enjoyed driving school bus along with driving the countryside roads noting the farming activity. Jerry will be remembered for his great personality, jokes and his warm smile.
Jerry loved traveling and fishing. Most of all, he loved spending time with his family and friends. Watching his children, grandchildren, and great-grandchildren's school activities brought him much joy.
Jerry is survived by five children, Eric (Deb) Bauer of West Salem, Laurie (Thomas) McQuillan of Boyd, Sheila (Gregory) Warren of River Falls, Rose (Lee) Prissel of Rochester, MN, Christopher (LuAnn) Bauer of Mondovi; 13 grandchildren, 20 great grandchildren; brothers, Duane Bauer, Loren Bauer, sister, Pamela Gansluckner, several nieces, nephews, other relatives and friends.
He is preceded in death by his wife Arlene; parents, Allie and Marion Bauer; daughters, Elizabeth Anderson and Amanda Westra; brothers, John Bauer, Lawrence Bauer, and Randall Bauer; and sister Bonnie Becker.
Mass of Christian of Burial will be held at 1:30PM Friday January 7, 2022, at Holy Rosary Catholic Church-Lima, Durand with Rev. Timothy Reither officiating. Burial will be in the church cemetery.
Visitation will be held one hour prior to the services at the church on Friday