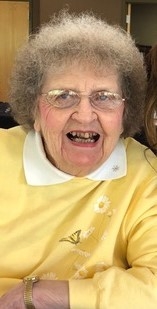 Lois Beverly (Spies) Moe, age 96, of Eau Claire, WI, passed away on December 28, 2021 at the Dove Healthcare West.
Lois was born on August 6th, 1925 to Bessie (Melby) and Walter Spies in Eau Claire, WI. Lois met and married Eugene L. Moe of Eau Claire, WI on April 7th 1947. They had two girls, LaMona and LuAnne, and spent their days raising their family and being active in the community, specifically in St. Joseph's Catholic Church in Elk Mound, WI.
Lois is survived by her sister, Phyllis (Spies) Rynda of Radisson, WI; her daughter LaMona (Moe) Weaver of Sugar Land, TX; 5 grandchildren Steven (Rebekah) Weaver, Matthew (Kate) Weaver, Sara (Ben) Smith, Joseph R. (Jodie) Weaver and Robert J. (Brenda) Weaver; and 10 great grandchildren.
She was preceded in death by her husband Eugene L. Moe, daughter LuAnne (Moe) Weaver, and sisters, Margie (Spies) Grimh Goff and Elizabeth Beverly Spies.
A funeral service will be scheduled at a later date with a private internment being held in Fort Snelling National Cemetery, MN.
In lieu of flowers, memorials may be made to Our Lady of Fatima School, care of St. Joseph's Catholic Church in Elk Mound, WI.