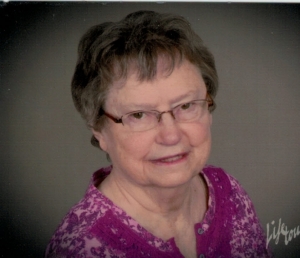 Lois Ann Marie Juliot, 84, of Eau Claire, formerly of Pepin, passed away at Marshfield Medical Center - Marshfield on January 5, 2022, with her family by her side.
Lois was raised on a farm in rural Stockholm, WI, and graduated from Pepin High School in 1955. She then ventured to the Twin Cities to pursue employment at St. Paul Fire & Marine Insurance Company while attending a business school. Love struck and she married Duane Juliot in July 1959 at Sabylund Lutheran Church in Lund, WI. They resided in the Pepin area for most of their lives. In 2013, Lois moved to the St. Francis Senior Apartments in Eau Claire.
Throughout her life, Lois was a role model of volunteerism at countless activities. As a skilled keyboardist, she cheerfully shared her talents with others: playing piano/organ for the residents of nursing homes, at the church, or any gathering that involved music. She looked forward to annual reunions of her childhood one-room school at Pleasant Corners, which was located about a ¼ mile from the homestead. Throughout the years, Lois and Duane took many day trips in the western Wisconsin and eastern Minnesota region enjoying an eclectic spectrum of activities/events. She was supportive and immensely proud of her family, and leaves behind nothing but beautiful memories.
Lois enjoyed reading her daily devotions and participating in Tuesday morning bible studies at Peace Lutheran Church. Her faith did not waiver as she neared death. Occasionally, she was heard reciting: "The Lord is my shepherd, I shall not want. He makes me lie down in green pastures." Psalms 23
Lois is survived by a sister: Maxine Rundquist (Plainview, MN); four children: Joy (Sami) Shehab of Rochester, MN; David (Ann) Juliot of Wausau, WI; Jon (Tina) Juliot of Eau Claire; and Joel Juliot of Denton, TX. She is also survived by six grandchildren: Rema (Josh) Prickett of Lewisville, TX; Samantha Shehab of Austin, TX; Jacob (Fiance' Sydney) Juliot of Memphis, TN; Megan Juliot of Frederic, WI; Carson Juliot and Shannah Juliot of Eau Claire; and one great granddaughter: Amina Prickett.
Lois was predeceased by her loving husband in 2009; her parents: George "Dewey" and Florence (Weberg) Johnson; sister, Laurel Whipple; and an infant son, Steven Paul.
Lois was grateful for the medical interventions provided for her granddaughter, Shannah, by St. Jude Children's Research Hospital in Memphis, TN. Memorials can be made to St. Jude's in support of childrens' cancer research, or a charity of your choice.
Funeral Services will be 11:00AM Wednesday, January 12, 2022 at Peace Lutheran Church, 501 E Fillmore Ave, Eau Claire, WI 54701. Pastor David Forke will officiate. Burial will be in the Oakwood Cemetery in Pepin at a later date. Visitation will be from 10:00AM until the time of services at the church on Wednesday. Please note that Peace Lutheran Church requires face masks to be worn while in the church.
Rhiel Funeral Home & Cremation Services, Durand, is serving the family.