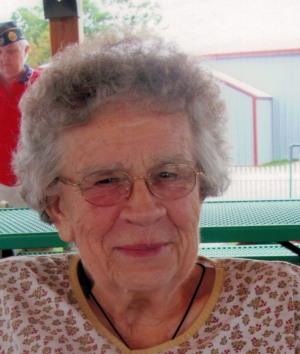 Marjorie M. Bechel, age 92, of Elmwood, died Sunday, January 9, 2022 at the Heritage of Elmwood Nursing Home in Elmwood.
Marjorie was born January 10,1929 in the Eau Galle Township of Dunn County. She was the daughter of Otto and Martha (Haack) Kuehl and grew up in the Eau Galle community and graduated from Elmwood High School in 1946.
Marjorie married Bernard M. Bechel June 6,1950 at St. Peter's Lutheran Church in Elmwood. After marriage they farmed in the Weston Township for a few years, before moving to the Rock Elm Township. In 1973 they moved into the Village of Elmwood, where she has remained the rest of her life.
Marjorie was active with the Morton Hill Homemakers Club, St. Peter's Ladies Aid, American Legion Auxiliary Unit 207 of Elmwood and was an avid jigsaw puzzler. She did the bookkeeping for her husband's repair business for many years.
Marjorie is survived by her seven children, Mike (Cherri) of Elmwood, Jerry (Harleen) of Browning, MT, Brenda Bechel of Eau Claire, Linda (Bob) Britton of Elmwood, Jan (Melvin) Fisher of Maiden Rock, Kenny of Elmwood, Julie (Kevin) Lee of Spring Valley; 13 grandchildren, 25 great grandchildren and one on the way and one step great granddaughter.
She is preceded in death by her parents, husband Bernard in 2015, a grandson, Josh Larrieu, a step grandson, Krystoffer Tailfeathers; five brothers, Walter, Martin, Louis, Raymond and Herman Kuehl.
Funeral services will be 11:00 AM Friday January 14, 2022, at St. Peter's Lutheran Church in Elmwood with Rev. Roger Quandt officiating. Burial will be in the Poplar Hill Cemetery, rural Elmwood.
Visitation will be held from 4:00 to 7:00 PM Thursday at the Rhiel Funeral in Elmwood and one hour prior to services at the church on Friday.