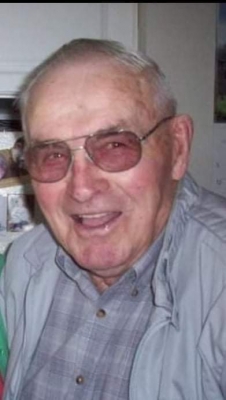 Robert Donald Hartung, 92, of Elmwood, passed away peacefully surrounded by his wife and family on Thursday, January 27, 2022 at his home in Elmwood.
Robert (Bob) was born May 3, 1929 in Eau Galle. He was the son of Edward and Maude (Weinzirl) Hartung. He grew up in Eau Galle and attended elementary at Weber Country School and then transferred to the new St. Henry's Parochial School in Eau Galle. Bob continued to work on his family's farm after completing school and met the love of his life, Betty Brunner of Lima, Wisconsin
Bob married Betty in June of 1949 in Lima, Wisconsin. They were happily married for 72 years. Bob was a member of Sacred Heart Catholic in Elmwood. Shortly after marriage, Bob and Betty began a family while continuing to help on Bob's family farm with his older brother Wayne. In 1957 they eventually purchased a farm on Farm Hill of rural Elmwood, which became the home farm. Here they continued to raise their eight children. Bob was very good with getting to know people and gaining their trust which allowed him to supplement income for a growing family in various sales roles outside the farm which included, insurance and agriculture products such as fertilizer, pesticides, and seed. One of his favorites was custom combining for area farmers.
Bob had many interests and hobbies which included playing cards, sitting in a boat or a shack fishing, traveling, operating the combine, reminiscing, teasing, enjoying a glass of EJ, and just getting to know people. He loved spending time with his children and grandchildren reminiscing.
Bob was preceded in death by his parents, Edward and Maude, his brothers Fr. Edward, James, Carl, Wayne, a sister Margaret, and his son Robert Joseph (Bobby).
Bob is survived by his wife Betty of Elmwood; his children, Lynda (Rick) Condon of Seattle, WA, John of Sarasota FL, Richard (Marla) of Pearland, TX, Randy (Ruth) of Elmwood, Mary (Bob) Milliren of Plum City, Terri of Elmwood, Becky (Dave) Will of Ellsworth; a sister Betty Plummer of Durand and sister-in- law, Goldine Weiss of Elmwood.
His grandchildren included Missy Baycroft, Chris Condon, Jason Hartung, Desirae Stotts, Kelli Brown, Bobby Joe Olson, Nichole Hartung, Danielle Hartung, Dominick Hartung, Joshua Hartung, Noah Hartung, Andrew Hartung, Anthony Hartung, Isaac Hartung, Karen Beard, Rebecca Hoyt, Kristen Cheuvront, Hannah Milliren, April Johnson, Laura Kowalczyk, Corey Bechel, Ryan Bechel, Katie Bauer, Jessica Bechel, Nickolas Bechel, Megan Olson, Chelsea Offord, as well as many great and great-great grandchildren, nieces, nephews, and other relatives.
Funeral services will be held at 11:00 AM Friday February 4, 2022 at St. Henry's Catholic Church in Eau Galle with Rev. Eugene Wolf officiating. Burial will be immediately following the services at Sacred Heart Cemetery-Farm Hill.
Visitation will be held from 4:00 to 7:30 PM Thursday at Rhiel Funeral Home in Durand
Rhiel Funeral Home & Cremation Services of Durand is serving the family.