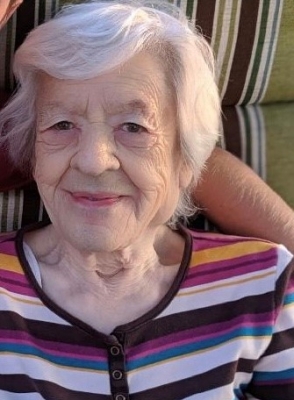 Mary M. Webb, age 94 of Eau Galle, died peacefully in her sleep on Sunday, February 13, 2022 at Our House Senior Living in Menomonie with her family by her side.
Mary was born on October 1, 1927 in Menomonie. She was the daughter of William and Inga (Moen) Gobel. Mary grew up in Downsville, attended school in Downsville and Menomonie. Mary married Lawrence G. Webb on June 14, 1948 at St. Henry's Church in Eau Galle. After marriage, they lived in rural Eau Galle and where they raised their family. Mary was proud to stay at home and take care of her five daughters and grandchildren.
Mary enjoyed reading books, going camping, traveling and watching soap operas on TV. Most of all, Mary loved spending time with family and friends.
Mary is survived by her five daughters, Kay (Dennis Turner) Stai of Menomonie; Karla Drinkwine of Eau Galle; LuAnn Webb of Menomonie; Lori (William Dordan) Lupton of Knapp and Tracy (Chad) Henrickson of Farmington, MN; six grandchildren, Teresa (Collin); Marci (Tom); Tina; Nikki; Riley and Chase; three great grandchildren, Sydney; Samuel and Jack; one sister, Mabel Weber of Elmwood; nieces, nephews, other relatives and friends. She is preceded in death by her parents, husband, Lawrence and five brothers.
Funeral Mass will be 11:00AM Thursday, February 17, 2022 at St. Henry Catholic Church in Eau Galle with Rev. Jerry Hoeser officiating. Burial will be in the church cemetery. Visitation will be 10:00AM until the time of services at the church on Thursday.
Rhiel Funeral Home & Cremation Services, Durand, is serving the family.