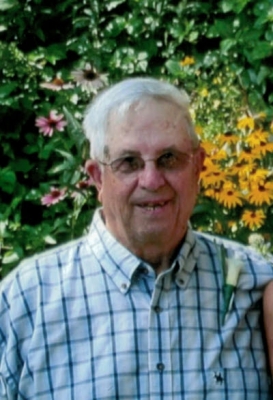 Kenneth Willard Cotterman, age 92 of Arkansaw, died Sunday, March 13, 2022 at his home in Arkansaw with his family by his side.
Kenneth was born on August 4, 1929 in Youngstown, OH. He was the son of Vernon and Eunice (Slatzer) Cotterman. Kenneth attended Poland Seminary School where he played football and graduated in 1948. While in school, Kenneth delivered bottled milk and worked on a farm, which sparked his interest in farming. After high school, Kenneth went to work at Youngstown Sheet and Tube where he worked as a roll turner. Kenneth then enlisted in the U.S. Army 6th armored division of engineers in 1951. He went to engineering school for two years, then he served state side in Alaska. Kenneth was honorably discharged in 1955. After the army, he moved to Arkansaw, WI with his army buddy where he started farming in Sunny Brook. Kenneth met his wife Patricia Plummer, after a minor fender bender at the intersection of Plummer Road and County Road D. They were married on October 25, 1958 in Arkansaw. After marriage, they bought a farm in Big Coulee in 1960, there they farmed and raised their family. Kenneth farmed until the day he died.
Kenneth enjoyed sitting and watching the birds, going out to eat at the Corral and spending time at home.
Kenneth is survived by his children, Ralph E. (Carin) Cotterman of Arkansaw and Gail L. (Faron Fuller) Cotterman of New Richmond; son-in-law, Don "Ducker" Anibas of Eau Galle; 11 grandchildren, Ralph M., Amber (Ryan), Erika (Mic), Isaac, Calli, Evan (Tessa), Kylynn (Ryan), LeeAnn (Brad), Bryna, Carter and Carley; 13 great grandchildren, other relatives and friends. He is preceded in death by his parents, Vernon and Eunice Cotterman; wife, Patricia Cotterman; daughter, Michelle Anibas and sister, Ethel (Wayne) Lumpp-Raub.
Private family services will be held.
Rhiel Funeral Home & Cremation Services, Durand, is serving the family.