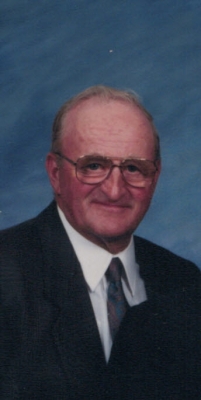 James J. Dettling, age 93 of Plum City, died Saturday, March 19, 2022 at his home in Plum City with his family by his side.
Jim was born on August 4, 1928 on the home farm in Plum City. He was the son of Joseph and Katherine (Horn) Dettling. Jim grew up on the farm, attended the Gilles Country School and graduated from Plum City High School in 1945. After high school, Jim continued to farm on the home farm. Jim married Darlene Lee on May 21, 1956 in Ruthven, IA. After marriage they lived on the farm where they farmed and raised their family. Jim was a member of the Farm Bureau for over 20 years, a chairman for the Town of Union and a board member for the Stockholm Insurance Company.
Farming was Jim's passion, when he wasn't farming he enjoyed collecting diecast Allis-Chalmers tractors.
Jim is survived by his children; Cindy (Scott) Truttmann of Hager City, Jim (Polly) of Red Wing, MN, Steve (Dorene) of Welch, MN and Joe of Plum City; two grandchildren; Rustianna and Alaina; six great grandchildren; Tate, Mason, Carson, Maddie, Chloe and Mia; sister-in-law; Marlys Lee of Merrifield, MN; nieces, nephews, other relatives and friends. Jim is preceded in death by his parents, wife; Darlene, grandson; Kyle Barker and siblings; Dorothy (Art) Sticht, Robert (Ann) Dettling and Ethel (Joe) Capitani.
Memorial Mass will be 11:00AM Friday, March 25, 2022 at St. John the Baptist Catholic Church in Plum City with Rev. Junabe Villapaz officiating. Burial will be in the church cemetery. Visitation will be from 4:00PM-7:00PM Thursday at the Rhiel Funeral Home in Durand and one hour prior to services at the church on Friday.
Rhiel Funeral Home & Cremation Services, Durand, is serving the family.