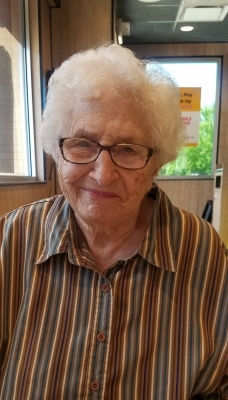 Lorraine A. Zeilinger, age 93 of Durand, formerly of Eau Galle, died Monday, March 21, 2022 at Kinnic Health Nursing Home in River Falls. After a courageous battle with dementia.
Lorraine was born January 12, 1929 at home in Plum City. She was the daughter of Rupert and Theresa (Weisenbeck) Poeschl. Lorraine grew up in Plum City and graduated from Plum City High School. After high school, Lorraine worked in Eau Claire in a business office as an accountant for several years. Lorraine married Richard Zeilinger on February 23, 1957 at St. Mary's Catholic Church in Durand. After marriage, they farmed and raised their family on the Zeilinger home farm in Eau Galle. They retired in 1999 and moved to the city of Durand.
Lorraine's passion was running the family farm with her husband and family. She enjoyed spending time outdoors and woodworking.
Lorraine is survived by her children; Daniel of Eau Claire, Dawn (Mike) Hall of Stillwater, MN, Paul (Kelly) of Eau Galle; six grandchildren; Cassara (Brandon) Cadwallader, Christopher Hall, Sophia Hall, Jacob Zeilinger, Lucas Zeilinger and Caleb Zeilinger; two great grandchildren; Everett and Rowan; nieces, nephews, other relatives and friends. She is preceded in death by her parents, husband; Richard, one son; David in infancy; two brothers; Robert and Harold Poeschl.
The family would like to thank the staff of The Homeplace in Durand, Kinnic Health Nursing Home in River Falls, St. Croix Hospice, Inclusa and Enoch Arhinful MD for all their loving care and support of Mom through her journey in dementia.
Memorial Mass will be 11:00AM Monday, March 28, 2022 at St. Henry Catholic Church in Eau Galle with Rev. Jerry Hoeser officiating. Burial will be in the church cemetery. Visitation will be from 10:00AM until the time of services at the church on Monday.
Rhiel Funeral Home & Cremation Services, Durand, is serving the family.