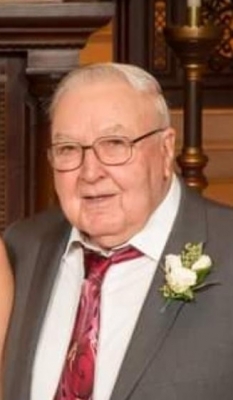 LeRoy J. Kralewski, age 91 of Arkansaw, passed away peacefully at home on March 21, 2022.
LeRoy was born on March 30, 1930 in the Town of Canton, rural Buffalo County. He was the son of Tom and Zulita (Hoyt) Kralewski. LeRoy joined the U.S. Army he attained the rank of E4/Demolition Specialist during the Korean War. While there, LeRoy preformed explosive and demolition work until being Honorably Discharged. LeRoy married Ruth Shaw on November 22, 1958. After marriage, they farmed and raised their family in the Arkansaw area. LeRoy always wanted to finish high school and received his GED in his 50's. He considered this one of his major accomplishments. He was very active in his community, serving on several boards and committees including the Arkansaw School Board; Pierce Pepin Electric; VFW; Farm Management among others.
LeRoy loved spending time with his children, grandchildren, great grandchildren. He always had a "Dad Joke" for the grandchildren and great-grandchildren. He enjoyed traveling, woodworking, making maple syrup and farming, always planting potatoes on Good Friday. LeRoy also liked going deer hunting and taking drives to look at the crops and wildlife.
LeRoy is survived by his wife of 64 years, Ruth; children; Dean (Mariana) of Oakdale, MN, Jay (Peggy) of Arkansaw, Beth Anderson of Arkansaw and Sue (John) Schwebach of Arkansaw; 11 grandchildren; Jesse (Ashley), Mitch (Jill), Toni (Jacob Bee), Kasey (Dustin), Mayis (Chris), Jordan, Jeremy (Kayla), Josh, Joy (Donovan), Paul and Brooke; 10 great grandchildren, many nieces, nephews, other relatives and friends. He is preceded in death by his parents and siblings; Genevieve Bignell, Annabelle Bignell, Frank, Francis, Viola Weissinger and Lucille Bignell.
A Celebration of Life will be held from 1:00PM-5:00PM Sunday, April 10, 2022 at the Arkansaw Community Center in Arkansaw. Burial will be 11:00AM Monday, April 11, 2022 in the Porcupine Cemetery.
Rhiel Funeral Home & Cremation Services, Durand, is serving the family.