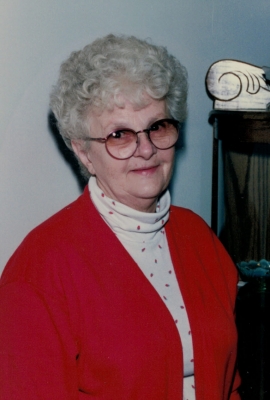 Marlys J. Baskin, age 88 of Durand, formerly of Eau Galle, died Wednesday, March 30, 2022 at her home in Durand.
Marlys was born on August 7, 1933 in Arkansaw. She was the daughter of Archie and Jesse (Coburn) Richardson Sr. Marlys grew up in Arkansaw and graduated from Arkansaw High School in 1951. After high school Marlys married George E. Baskin on August 1, 1955, together they had nine children and later divorced. When her children were older, Marlys put herself through school to be a nurse's aide. After graduating, Marlys worked at the care centers in Spring Valley and Menomonie until she retired at the age of 65. For the last 20 years, Marlys has been a resident of the city of Durand.
Marlys enjoyed crocheting and going out to eat with friends. She loved to spend time with her family, especially her grandchildren and great grandchildren.
Marlys is survived by her children, Donavon of Elmwood, Dennis (Val) of Eau Galle, Douglas (Trudy) of Menomonie, Andrea (Perry) Scott of Durand, Ava (David) Klatt of Menomonie, Daniel (Tammy Anderson) of Arkansaw, Amy (Bob) Alton of Spring Valley, Arla (Tom) Sorenson of Wilson and Alisa (Dale Kanan) Baskin of Osceola; 24 grandchildren, 39 great grandchildren, one brother, Richard (Lou) Richardson of Pepin; brother-in-law, Darrel Poeschel of Neillsville; sister-in-law, Ethel Richardson of Eau Claire; nieces, nephews, other relatives and friends. She is preceded in death by her parents, granddaughter, Brandi Baskin; great granddaughter, Emory Larson; siblings, Bill, Lyle, Joy, Archie Jr., Lillian, Myrna her twin and Dayna.
A Celebration of Life will be held 11:00AM-2:00PM April 23, 2022 at the Arkansaw Community Center in Arkansaw.
Rhiel Funeral Home & Cremation Services, Durand, is serving the family.