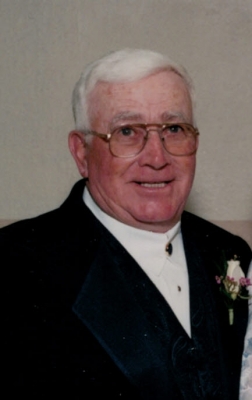 John R. Ryan, age 93 of Arkansaw, died Friday, April 1, 2022 at River Pines in Altoona with his family by his side.
John "Jack" was born on July 27, 1928 in Hammond, rural St. Croix County. He was the son of John I. and Matilda (Martin) Ryan. John grew up in the River Falls and Menomonie area, graduating from Menomonie High School. After working in Alaska, John joined the U.S. Army in January of 1951 and was stationed in Germany before being Honorably Discharged in December of 1952. John married Julia Batchelder on October 29, 1955 at St. Joseph's Catholic Church in Menomonie. They first farmed in Knapp, Wisconsin before moving to a farm in Trout Creek, Wisconsin, and then settling in Arkansaw, Wisconsin in 1960 where they operated a dairy farm for forty years. While farming, John worked at Presto Industries.
John had the foresight to know that he had one important decision in his life, and he fulfilled that by marrying Julia. Having five sisters that were educators, education was a high priority of John's life, and he insisted that all of his children received the best possible education. John valued the time he spent farming, with family and especially his beloved wife.
John is survived by his children, Nancy M. (John) Gehrke of Sterling, IL, John C. (Audrey "Susie") of Maiden Rock, Mary L. (Steve) Congdon of Woodruff, Jerold F. "Jerry" (Rob) of Chicago, IL and Connie J. (Terry) Klatt of Eau Claire, 15 grandchildren, four step grandchildren, 11 great grandchildren and two step great grandchildren, two brothers-in-law; Marlyn "Ike" Hovind, and Lowell Mattila, nieces, nephews, other relatives and friends. He is preceded in death by his parents, wife, Julia; two sons, Steven M. (Carolyn) and Joseph M.; great grandson, Ian Nguyen; two brothers, Robert and Henry and five sisters, Mary Gilbert, Loretta Borck, Josephine McLain, Dorothy Danzinger and Agnes Fox.
Words cannot express how grateful we are for the exceptional care and friendship River Pines and St Croix Hospice gave John.
Memorial Mass will be 11:30AM Friday, April 8, 2022 at St. Mary Catholic Church in Durand. Military Honors and Burial will be in the church cemetery. Visitation will be 4:00PM-7:00PM Thursday at the Rhiel Funeral Home in Durand with a prayer service at 6:45PM and visitation one hour prior to services at the church on Friday.
Rhiel Funeral Home & Cremation Services, Durand, is serving the family.