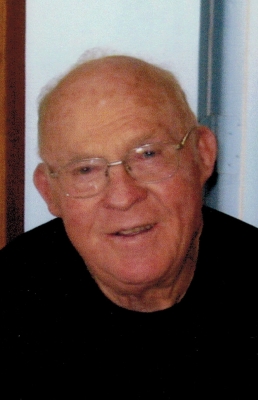 Clark Albert Holt was born June 20, 1923 in Elmwood, Wisconsin, to Albert Edmund Holt and Nora Mae (Hamilton) Holt. He died Sunday April 3, 2022, at Welcome Home Assisted Living in Elmwood at the age of 98.
Clark grew up on his parents' dairy farm, and eventually took over ownership of the farm.
When he was in high school, Clark played the French horn. He didn't play any sports because he had to farm. After high school, Clark took pilot lessons and flew a solo flight.
He met Evelyn Beebe at the dance in Ellsworth. They were married September 3, 1947. Clark and his dad built a little house on the farm where Clark and Evelyn raised four children.
Clark was a founding member and Treasurer of the Elmwood Rod and Gun Club where he worked at the Horse Pulling contest every year and helped prepare for weekly fish fries during the winter.
For many years, Clark was a member of both the Spring Lake Town Board and the Elmwood United Methodist Church board.
Clark loved to hunt and fish. Most of all, he enjoyed spending time with his family at his cabin on Tainter Lake with a fishing pole in one hand and a beer in the other.
Clark worked hard and played hard.
Clark was proud of the fact that he spent his later years sleeping in the bed where he had been born.
He was predeceased by his parents, his brother Bernard and sister-in-law Elizabeth, his wife Evelyn, and his granddaughter Stacia.
Clark is survived by his children Stephen (Lorie) of Elmwood, WI; Frank (Ann) of Rogers, MN; Rebecca (Douglas) Mintz of Clay, NY; and Anthony (Kathleen) of Overland Park, KS; his grandchildren Margo, Abbey, Jason, Andrew and Katherine; his step-grandchildren Stefanie and Dan; his great-grandchildren Nolan, Deacon, Ella, Fallon, Nathan, Christian, Jayson, William, Victoria and Tatum. Also, many nieces and nephews.
Visitation will be held from 4:00 to 7:00 PM Friday April 29, 2022, at Rhiel Funeral Home in Elmwood. Private interment services will be at Poplar Hill Cemetery in Rock Elm.