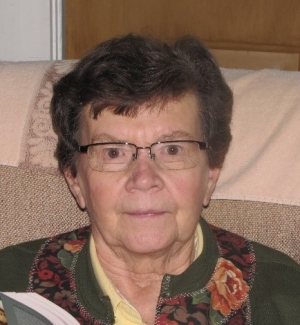 Nona M. Wild, age 91 of Elmwood, Wisconsin, died April 16, 2022 at her home surrounded by her daughters.
Nona was born on May 5, 1930, to Norval and Lenna (Hamilton) Lewis, on the family farm in Union Township near Plum City, WI. Nona grew up on the farm and graduated from Elmwood High School in 1948. After graduation she worked a short time for Sears and Roebuck in Minneapolis, MN then moved back home where she worked for the Elmwood Lumber and Grain Company. About this time, she started dating a handsome farmer, Frank Wild, and they enjoyed many a dance on the weekends in the local area. Frank and Nona were married on October 4, 1949, on the Lewis farm. The couple lived their life on the Wild family farm near Elmwood where Frank took over the family farming business and Nona was a homemaker and mother, while also working for Mid America Dairymen.
Nona enjoyed spending time with her family. She was an exceptional cook and exceled in making big family dinners for holidays, making homemade bread and other goodies. Spending time at the cabin in Trego, WI was a joy for Nona, and the family shared many breakfasts served with fresh fish from the local lakes. Nona was an avid reader, enjoyed tending to the flowers in her yard, enjoyed fashion, and could often be found playing solitaire or doing challenging crossword puzzles. Frank and Nona enjoyed traveling around the United States and, in retirement, they spent several winters in a condo on the beach in Gulf Shores, AL. Nona loved her Minnesota Twins! Over the years, she enjoyed "all" the Twin's games on either the radio or television and, although she said they didn't seem to listen to her, she "coached them" through each game. She was known to cheer on the Packers, the Badgers, and the March NCAA games, as well as the Brewers (when the Twins weren't playing). Nona attended church regularly at the Rock Elm Methodist Church and enjoyed working at the church's annual Ice Cream Socials each summer.
Nona's granddaughter, Kami, wrote a beautiful tribute to Nona called "A Brief History of a Wild Woman." These are the closing words from that document: "The family of Nona Wild is blessed to love her and to be loved by her. To Nona, family is paramount. She poured her energy and love into her family. Her children, grandchildren, and great grandchildren are her deepest loves and joy. She once told me that she aspired to learn and grow as she raised her own children. What better way is there? Today Nona keeps up-to-date framed photographs of all family members on a wall in her living room-- her children, grandchildren, and great grandchildren, of which she sometimes says with wonder and a chuckle, 'Just look what Grandpa and I started.'"
Nona is survived by three daughters, Kathy (Mike) Miller of Elmwood, Jean (David) Podoll of Menomonie and Mary (Ted) Poplawski of Schofield; eight grandchildren Ben, Kami, Marcy, Kenton, Katie, Colleen, Jared, and TJ; ten great-grandchildren Andrew, Kaitlyn, Matthew, Alex, Abby, Magnus, Ryker, Jameson, Anders, and Nolan; siblings, Tom Lewis, Sally (Melvin) Perkins, brother-in-law, John Gehn, as well as many nieces, nephews, other relatives, and friends. She was preceded in death by her husband, Frank, her parents, her sister, Helen Gehn, and an infant sister, Mary Ann.
We would like to thank everyone from Adoray Hospice for the exceptional care given to Nona and our family. In lieu of flowers, the family prefers memorial donations be made in Nona Wild's honor to Adoray Hospice at 990 Main Street, Suite 1, Baldwin, WI 54002.
Memorial services will be held at 11:00 AM Thursday, April 21, 2022, at Rock Elm United Methodist Church, rural Elmwood with Rev. Meg Erickson officiating. Burial will follow the services at Poplar Hill Cemetery-Rock Elm.
Visitation will be held one hour prior to services at the church on Thursday.