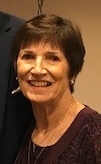 Elsie Ann Weisenberger, age 77, of Menomonie, died Wednesday, May 4, 2022, at Methodist Hospital in Rochester, MN, after a courageous battle with Pancreatic Cancer.
Elsie was born in Rice Lake on August 31, 1944 to Louis and Lydia (Dvorak) Sirek. She graduated from Rice Lake High School in 1962. Elsie married Richard Weisenberger in 1964 and moved to Texas, where Richard was stationed with the U.S. Air Force. In 1965, they had their son, Stephen, and returned to Wisconsin in 1967 to settle in New Richmond for 10 years. In 1977 they moved to Menomonie. Richard passed away in 1977.
Elsie remained in Menomonie and retired from Red Cedar Medical Center in 2007. After retirement Elsie enjoyed reading, puzzles, gathering with many special friends and family, especially spending 10 winters in Florida with her loving companion, Mike Helgeson.
Elsie is survived by her son, Steve & daughter-in-law, LeAnn; grandsons, Michael (Jordan) and Nicholas; great grandson Mason; her 34 year companion, Mike Helgeson and his children, Laura and Lisa and five grandchildren; two sisters, Zita Willgar and Cis Crotteau; two sisters-in-law and 28 nieces and nephews.
She is preceded in death by her husband, Richard; her parents; two sisters, Jean Haines and Clara Beffa; a brother, Louie and an infant granddaughter, Taylor Anne.
Memorial services will be 11:00 AM Thursday May 12, 2022 at Rhiel Funeral Home in Menomonie. A private burial service will be held at a later date at St. Joseph Cemetery in Rice Lake.
Visitation will be held one hour prior to services at the Rhiel Funeral Home on Thursday.
In lieu of flowers, memorials are preferred to the American Cancer Society.