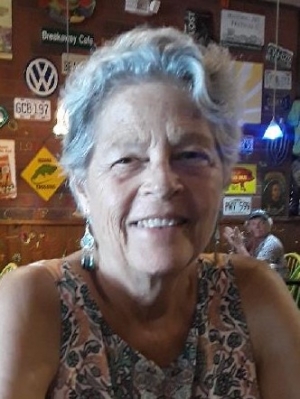 Vicky L. Phillips, age 71 of Deland, FL, formerly of the Menomonie and Elmwood area, died December 5, 2021, at her home, after battling cancer.
Vicky was born March 6, 1950, in Baldwin and grew in the Hatchville area. She was the daughter of Lyle and Dolores (Wolske) Ferber. Vicky attended and graduated from Elmwood High School in 1968. Vicky married Daniel Phillips November 2, 1974, in Menomonie and shortly after they moved to Florida where she has remained the rest of her life.
Vicky enjoyed antiques, was an antique appraiser and worked in several antique stores. Her hobbies included working in her gardens raising orchids, hiking, and kayaking. She also helped her husband with his art business setting up his art shows along the eastern seaboard.
Vicky is survived by her husband, Daniel, her mother, Dolores Ferber of Cumberland; her sister, Jackie Annis of Cumberland; two nieces, one nephew, six great nieces and one great nephew; several aunts and uncles.
She is preceded in death by her father, her brother-in-law, Richard Annis (December 17, 2021); step-fathers, Ernest Davis & Ed Ferber, Jr.
Graveside services will be held 11:00 AM Friday June 10, 2022, at Oakridge Cemetery, rural Spring Valley.
A Celebration of Life will be held from 1:00 to 5:00 PM Saturday June 11, 2022, at the Northwoods Brew Pub in Osseo.
Rhiel Funeral Home & Cremation Services of Menomonie is serving the family.