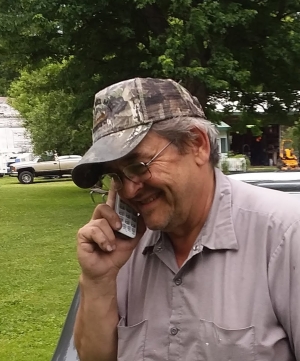 Ronald R. Pommerening, age 62 of Plum City, died Saturday, June 4, 2022 in a tragic accident at his home.
Ron was born on August 31, 1959 in Hastings, MN. He was the son of Robert and Audrey (Oehlke) Pommerening and grew up in Cottage Grove. In 1976 Ron married the love of his life, Gail Morrison. Ron worked for Bailey Nurseries in Newport for many years until they moved to their farm outside of Plum City in 1989. They dairy farmed until 1999. Ron then logged for 10 years. He was currently working for 3M in Red Wing as a metal fabricator.
Ron will forever be remembered for the deep love of his family and friends and the special place in his heart for his three grandkids. Ron had a big heart, great laugh, and a shop door that was always open with music playing and cold ones on hand for those who stopped by to say hi.
Ron is survived by his wife Gail of 46 years; son, Ray (Rachel) of Pepin; three grandchildren, Aubrey; Tristan and Ryan; siblings, Cindy Pommerening of Woodstock, IL Robert "Butch" (Deb) of Pepin; Randy (Rochelle) of Pepin; Jane (Jim) Pavek of Cottage Grove, MN and Ann (Ron) Piela of Hayward; many nieces, nephews, relatives and dear friends. He is preceded in death by his parents and his son, Ronald "Bud" Pommerening Jr.
Private Family Services will be held at a later date.
Rhiel Funeral Home & Cremation Services, Durand, is serving the family.