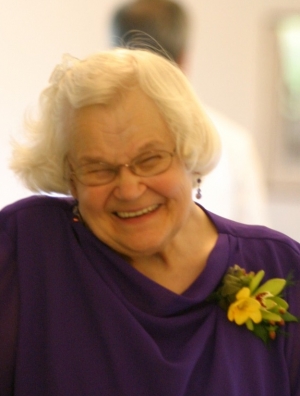 Mary Louise (Meyer) Sheppard, of Menomonie, WI, passed away peacefully on Thursday, May 19, 2022, surrounded by her children, after a truly interesting journey here on earth. After decades of living with and managing various physical ailments, she so looked forward to joining her husband George in heaven, having lost him after 53 years of marriage in March of 2020.
Mary was born to parents Carl Joseph Meyer and Evelyn Mary (Schmidt) Meyer on March 24, 1936 in Milwaukee, WI. Arriving a month early and weighing just 3lbs, 11oz, at birth, Mary received a blood transfusion from her father within hours. As the only child of a Butcher and Homemaker, Mary was the apple of their eye. She grew up interacting regularly with her mother's relatives at holidays and family gatherings, often trying to decipher the words spoken by her grandmother, who would speak in German when she didn't want little ears to understand or eavesdrop.
Mary enjoyed reading novels by the 5th grade and that love for the written word developed into her own desire to write, which she did in many formats; from Freshman Year in High School on, writing a novel for English Class with her Teacher's permission instead of the assigned autobiography, to later creating newsletters for women's circles at church and handling sensitive documents, creating flyers and brochures and writing press releases for her places of work.
After high school, Mary worked in Milwaukee in various roles, eventually becoming a trusted Administrative Assistant at the School of Education at UW – Milwaukee. It was there in June 1966 that she first met George Sheppard. George & Mary soon formed a strong connection and married less than a year later on March 25, 1967 and went on to have four children, Steven, Andrew, James, and Nancy. Soon after marrying, they moved to Wautoma, WI where Mary was active in the community and formed strong bonds with many dear friends while her husband worked in his first professional role for the Department of Natural Resources. Several of those family friends, stayed close with Mary & George for over 5 decades! Then, in 1971 George & Mary moved their family to Menomonie, Wisconsin, where George was hired to be the Dunn County Forester with the DNR. Mary selflessly supported George in that role as well as his other consulting forester roles for over 50 years. During that time, Mary was well known in the community for being the "glue" that held the family of 6 together, transporting their very active kids to many activities; baseball, football and basketball games, track meets, recitals, church youth group meetings and conferences, scouting adventures and camps, and countless other outings with friends. Family and friends knew Mary to be the smiling supporter of all 5 other household members, rarely taking the spotlight herself.
Other examples of her servant-hearted nature came in the form of her support to family enterprises. In the 70's, George and Mary purchased land in Central Wisconsin and owned a Christmas tree business for many years, with Mary serving the family and crew who worked on the tree farm planting, shearing, spraying and harvesting. The Dinner Tent was her domain and she served many there over the years. Sheppard Trees sold thousands of Christmas trees each year from their side lot at their home in North Menomonie where George & Mary raised their family for 30 years. It was an enterprise that the whole family participated in, with George & Mary leading the kids in duties. During many of these same years, Mary supported her husband in his entrepreneurial endeavors throughout the community as a co-owner of a large number of student rental houses in Menomonie.
In the late 80's, Mary decided to re-join the workforce to embark on a second career and worked for nearly 15 years in support of the community services provided by the Menomonie Senior Center, coordinating on-site Senior activities, Meals on Wheels, and other high-impact programs. In this role she met an additional group of cherished, lifelong friends with hearts dedicated toward civic outreach, several of whom stayed close with her until her passing.
Mary had grown up Catholic in her youth and always reflected fondly on and appreciated the foundations of faith she gained there. Then, in the 70's and 80's, George, Mary and their family enjoyed their fellowship at the Menomonie United Methodist Church, where they met many lifelong friends. Following that time, for the past 20+ years, George and Mary have been attending and been very active in the ministry of the Immanuel Baptist Church of Menomonie, further deepening their faith and network of dear friends.
Mary joins her faithful life partner, best friend and husband of nearly 53 years, George, as well as her parents, Carl and Evelyn Meyer in Heaven. She is survived by her children and their spouses, Steven Sheppard (wife Sharon) of Suffolk, VA, Andrew Sheppard (wife Tamania Faith) of Gilbert, AZ, James Sheppard (wife Summer) of Leland, NC and Nancy (Sheppard) Lauer (husband Tim) of Baltimore, MD; as well as her Grandchildren, who affectionately called her "Grandma Frog": Chelse (Sheppard) Woods (husband Levi) of Portsmouth, VA, Cierra and Seth Sheppard of Suffolk, VA, Eve and Gabriel Sheppard of Gilbert, AZ, Evan and Natalie Lauer of Baltimore, MD, and Great Granddaughters, Norah Woods and Livia Woods, of Portsmouth, VA.
The family wishes to extend their gratitude to The Neighbors of Dunn County for their attentive, loving care provided to Mary over the past 2.5 years(and George previously in late 2019 and early 2020). Mary is blowing kisses to you all (a favorite of staff members!) from heaven now.
A Celebration of Life Service honoring both George and Mary Sheppard will be held on Saturday, July 9th at 11am at Immanuel Baptist Church, 2700 S. Broadway, in Menomonie, officiated by Pastor Michael Van Zee. Friends are also invited to a visitation with family during an Open House held from 1-2:30pm that day at the Menomonie Senior Center, 1412 6th St. E. in Menomonie. Light refreshments will be available at this activity and the time is floating.
In lieu of flowers, the family urges those wishing to make a contribution in Mary or George's honor, to do so to Immanuel Baptist Church or the Menomonie Senior Center. As well, the family would love if you'd consider taking the time to plant a tree and read a good book in George & Mary's honor sometime this summer.