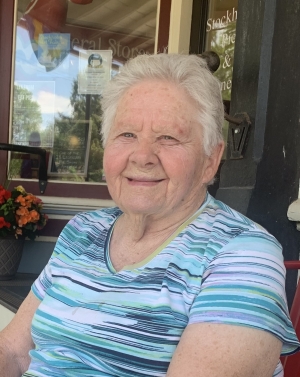 Joan E. Seipel (nee: Webb), Lover of God, family and life, died peacefully at home in Eau Galle, WI on Wednesday, July 20, 2022, at the age of 86.
Joan was born, baptized, raised and retired in Eau Galle with her working years spent living and raising a family of eight kids in the Maplewood/Oakdale area, with her husband John of nearly 60 years. She was a devout Catholic, dedicated wife, beloved mother and exceptionally hard worker. Joan loved polka dancing, playing cards, picking raspberries, praying the rosary and gardening. Joan touched the lives of everyone she met. In addition to raising her own kids, she was also a fabulous daycare provider, always taking the kids to the park.
Joan was a baker and provider, filling her children's bellies with delicious home cooked meals and endless supplies of baked goods. A maid with her millions of loads of laundry. A medic with the attitude of "don't call the ambulance, call Mom first!" A teacher who taught us to be hardworking and responsible. A cabbie, driving the station wagon for our Sunday morning newspaper routes.
Joan is preceded in death by her parents, George and Josephine (Biesterveld) Webb; husband, John; grandchildren, Kyle and Angela Kochendorfer and many siblings. She is survived by her children, Jerry (Gina), Jim (Betty), Jeanne (Macy) Brent, Joni (Rick) Kochendorfer, Jack, Judy (Tom) Lee, Jill (Tom) McGuire and Joy (Adam) Tebbutt, 21 grandchildren, 19 great grandchildren with one on the way, other relatives and friends.
Joan will be greatly missed and never forgotten. She will be forever in our hearts. We appreciate all the devoted time, energy and sacrifices she made her entire life for her family. She was the best Mom ever and voted #1 Mom 63 years in a row!
Memorial Services will be 11:00AM, Monday, July 25, 2022 at St. Henry's Catholic Church in Eau Galle, with Rev. Jerry Hoeser officiating. Burial will be in the church cemetery. Visitation will be from 10:00AM until the time of services at the church on Monday.
Memorials are preferred in Joan's name to St. Henry's Catholic Church or the Alzheimer's Association.
Rhiel Funeral Home & Cremation Services, Durand, is serving the family.