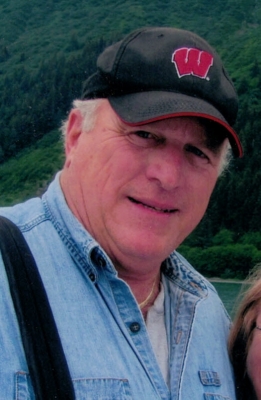 Kenneth F. Kartman (age 74) of Arkansaw, WI passed away peacefully at home on Monday, July 25, 2022. He was born in Lancaster, WI on September 14, 1947 to Francis and Leone (Ackerman) Kartman. Ken grew up in Cassville, WI and spent his childhood fishing, hunting and enjoying the Mississippi River. He graduated from Cassville High School in 1965 where he was an outstanding basketball and football player. In April 1966 he married Janis Cobean at St. Charles Church in Cassville. Together they have a daughter, Bethann (Bruce) Mahle of Plum City WI. He graduated from UW-Platteville in 1970 with a BS in Secondary Social Studies.
He spent one year teaching in Gays Mills, WI. He was a teller at the Mound City Bank in Platteville for one year and then became the Manager and Chief Loan Officer of the Hazel Green Branch of the Cuba City State Bank for 16 years. He then embarked on a new career as a carpenter working for Gary Gilbert Construction, the Prism Corporation, and Construction Services Unlimited, all of Hazel Green, WI. He retired in 2005 and he and Jan moved to Arkansaw, WI in 2007 to be near their daughter and her husband.
In every stage of his life, Ken enjoyed giving and serving the communities in which he lived. As a youth he was a Boy Scout, an altar boy, a lifeguard, and helped many elderly neighbors with chores. As an adult he served on the Hazel Green Fire Department, receiving the Fire Fighter of the Year Award in 1979. He spent many enjoyable hours providing entertainment for others through singing in the Hazel Green Community Chorus. He was a member of the Hazel Green Lions Club for over 30 years participating in numerous projects including establishing a Public Library and building a picnic shelter. Ken and Jan, along with five other couples provided the seed money and labor for what would become the Hazel Green Park and Ball Fields, even participating in an elephant race against the mayor to promote a park fundraiser. After moving to the Arkansaw area Ken helped with remodeling of the Pepin County Food Pantry, working at the Eau Galle Sportsmen Club fundraisers, ringing bells for the Salvation Army, cleaning up 4 miles of County D through the Adopt-A-Highway program, and decorating for Christmas at the Arkansaw Creek Park. He was Jan's biggest supporter in the activities that were important to her, especially Fill a Book Bag and the Durand Swim Club. He was also a multi-gallon Red Cross Blood Donor.
Ken enjoyed many hobbies. Among them were duck decoy collecting, playing Euchre, playing softball until age 50, woodworking (especially making birdhouses), feeding the birds, maintaining a bluebird trail, and preserving his beautiful wooded lot. He was an avid fan of the Wisconsin Badgers, Green Bay Packers, Durand Panthers, and Southwestern Wildcats. Together he and Jan spent many enjoyable hours touring the backroads in their 1990 Miata. They also travelled extensively in the US and throughout the world, visiting five of the seven continents and over 50 countries.
Ken is survived by his wife of 56 years, Jan; his daughter Bethann (Bruce) Mahle of Plum City, WI; a sister Judy (Carroll) Hermanson of Donna, TX; two brothers, Mark (Jacqui) Kartman of Coon Valley, WI and Kurt (Laurie) Kartman of Stoddard, WI. He is also survived by many beloved nieces, nephews, great-nieces, great-nephews, cousins and treasured friends. He was preceded in death by his parents, a sister Nancy Adrian, a nephew David Hermanson and special pets Fitz and Bud.
A Celebration of Ken's Life will be held at the Durand Rod and Gun Club, N7312 WI Hwy 25, Eau Galle, WI 54737 on Sunday, September 11, 2022 from 2-5 PM. If you desire, in Ken's memory and in the spirit of his life, you may donate to a charity or organization of your choice. His family would appreciate knowing the many ways his life was paid forward. It was said that Ken was a good man, a true friend, and could lift the spirits of anyone around him.
Rhiel Funeral Home & Cremation Services, Durand, is serving the family.