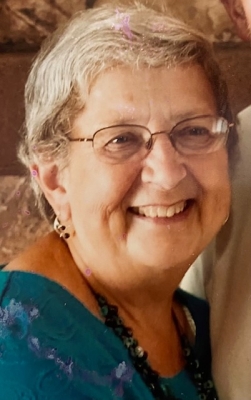 Denise M. Weiss, age 81, of Arkansaw, gained her angel wings, on Saturday July 30, 2022, at University of Minnesota Fairview Hospital in Minneapolis, MN, surrounded by her family.
Denise was born, September 6, 1940, in the Township of Eau Galle. She was the daughter of Dennis S. & Beulah M. (King) Schlosser. Denise grew up in the Eau Galle community, attended St. Henry's Catholic Elementary School and graduated from Durand High School. Denise started working in the family business, "Mondovi Implement", doing accounting work in Mondovi. Denise met and later married Sigfreid R. Weiss, Jr. September 10, 1960, at St. Henry's Catholic Church in Eau Galle. After marriage they made their home in the Durand area and raised their family. Denise continued to work in the family business, (Durand Implement, MDMA, & Tractor Central) for many years.
Denise's family was most important to her, children, grandchildren and great grandchildren. One of her greatest achievement was gaining her pilots license, as to not let Sig get one up on her. Her love for adventure also took her on a hot air balloon ride above Durand. She enjoyed quilting, collecting fabric, loved her cats, she loved but hated birds, collecting buttons, elephants and many other things, and doing puzzles. Taking grandchildren on vacations each summer was always a highlight. Going on rides on her compact tractor and gator filled her days with joy.
She is survived by her husband of 61years, Sig; three daughters, Michelle (Tom) Heath of Plum City, Laure (Bill) Stokke of Menomonie; Jackie (Paul) Seipel of Eau Galle; eight grandchildren, Jennifer (Brian) Mathison, Rebecca Heath, Andrew (Sarah) Heath, Mathew (Kellie) Heath, James (Allie) Stokke, Kimberly (Tyler) Goettl, Brandyn (Hayley)Seipel, Justen (Shaina)Seipel; 12 great grandchildren; Majia Paunio (Foreign exchange daughter from Finland) siblings, Patricia Kittilstad, Donna (Doug) Weber, Gene (Mary) Schlosser, Tom (Sherry) Schlosser, Sue (Jerry) Lolwing, Julie (Dan) Bower, Peter (Annette) Schlosser, and many , nieces and nephews.
She is preceded in death by her parents, an infant brother, Edgar, a brother-in-law, Mike Kittilstad.
Private family services will be held at a later date.
In lieu of flowers, please send memorials to : UnBound (a program that offer s a hand-up –not a handout – to a family working to lift themselves out of poverty through hard work, initiative and hope. A program that empowers individuals and their families with tools to achieve self-sufficiency. This was a passion of Denise's) at PO Box 219114 Kansas City MO 64121-9114