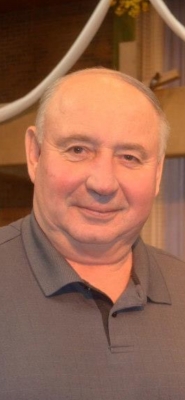 Jerome E. Kane, age 77 of Maiden Rock, died Sunday, August 7, 2022 at his farm in Maiden Rock.
Jerome was born on July 12, 1945 at the Plum City hospital. He was the son of Sheldon "Bud" and Lennis (Grant) Kane. Jerome grew up in Maiden Rock where he lived his entire life. He attended elementary school at St. John's and graduated from Plum City High School. After school, Jerome continued farming with his dad and brother Mike, and later his nephew Scott. Jerome married Sandra Kopp on October 17, 1970 at St. John the Baptist Catholic Church in Plum City. After marriage, they bought the farm across the road from his home farm where they continued farming and raised their three daughters.
Jerome enjoyed spending time outdoors, fishing with friends, playing cards, riding four-wheeler, and checking crops around the farm. He passed on his passion of hunting to his grandchildren. Jerome made sure to watch the stock market and check commodities on his DTN everyday. He had a generous heart, loved to tell a good story and share a laugh.
Jerome is survived by his daughters, Jennifer (Garrett) Birkel of Hudson, Erica (Matt) Herink of Roberts, and Renee (Aaron) Nutter of New Brighton, MN; six grandchildren, Maizy, Elliot, Simon and Owen, Lauren and Henley; two brothers, Don (Theresa) of Plum City and Mike (Patty) of Maiden Rock; brother-in-laws Gail (LuAnn) Kopp of Maiden Rock, and Doug Biesterveld of Bloomer; nieces, nephews, other relatives and friends. He is preceded in death by wife, Sandra (2001); his parents; and sister, Kathy (Kane) Biesterveld.
Memorial Mass will be 3:00 PM Thursday, August 18, 2022 at St. John the Baptist Catholic Church in Plum City with Rev. Juneabe V. Villapaz officiating. Private family burial will be in the church cemetery. Visitation will be one hour prior to services at the church on Thursday.
Jerome wanted his friends and family to have a beverage and good food while remembering him fondly, so the family is welcoming everyone to the farm for an open house after Mass from 4:30-8:00 PM.
Memorials are preferred in Jerome's name for a memorial bench at the Pierce County Fairgrounds.
Rhiel Funeral Home & Cremation Services, Durand, is serving the family.