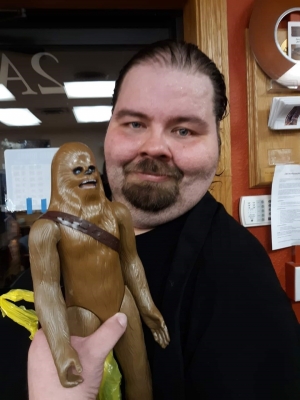 Farrin A. Peterson, age 41 of Durand, formerly of Augusta, died Sunday, August 21, 2022 at St. Mary's Hospital in Rochester, MN from a heart related illness.
Farrin was born on September 25, 1980 in Eau Claire. He was named after Farrin Young the country music star. Farrin was the son of Cherlynn Peterson and Chuck Kiehl. He grew up with his grandparents, Emily and Harvey Peterson in Wilson, rural Augusta. Farrin graduated from Augusta High School in 1999. Farrin leaves behind a wonderful son, Christopher. He worked at various places in the Eau Claire area but was mostly known for his 1980's vintage toy store, In Retrospect. In March, Farrin moved with his fiancé, Norma Scivally to Durand.
Farrin enjoyed talking and trading vintage toys with his friends and was a huge fan of the Teenage Mutant Ninja Turtles.
Farrin is survived by his fiancé, Norma Scivalli; son, Christopher; father, Chuck Kiehl III; siblings, Katrina Peterson, Jason Kiehl, Shawn Kiehl, Chuckie Kiehl, Darrel Kiehl and the rest of his family and friends. He is preceded in death by his mother, Cherlynn Peterson; grandparents, Emily and Harvey Peterson and best friend, Steven Larson.
A Potluck Celebration of Life will be held from 1:00PM-6:00PM, Saturday September 24, 2022 at the Riverview Park (Northside) 2721 Riverview Dr., Eau Claire.
Rhiel Funeral Home and Cremation Services, Durand, is serving the family.