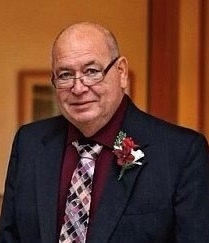 James O. Bock, age 73, of Balsam Lake, formerly of Elmwood, passed away on Saturday, August 27, 2022, at his home, surrounded by his family.
Jim was born January 3, 1949, in Elmwood. He was the son of Clarence and Pauline (Kainz) Bock and grew up in Elmwood. Jim graduated from Elmwood High School in 1967. Jim married Ann Weiser December 28, 1968. After marriage they made their home in Elmwood and raised their family. Jim worked for Sweeney Brothers Construction and later Timme Inc. Construction until he retired. After retirement, Jim and Ann moved to Balsam Lake where he remained the rest of his life.
Jim enjoyed fishing, golfing, playing cards, and having a beer with family and friends.
Jim is survived by his wife of 54 years, Ann, a son Jamie (Tina) Bock of Connersville, two grandsons, Brett (Rachel) and Bryce, both of Elmwood; three great grandchildren, Jayce, Peyton & Laynie; siblings, Bill (Gayle) Bock, Marilyn "Buckwheat" Voltz, Tom Bock, Colleen "Beaner" (Rob) Bowen and Larry (Trish) Bock, many nieces, nephews, other relatives and friends.
He is preceded in death by his parents and two brothers, Robert and Daniel.
A Celebration of Life will be held on Saturday September 24, 2022, from noon to 4:00 PM at the Bowen residence at 135 West Winter Ave. in Elmwood.