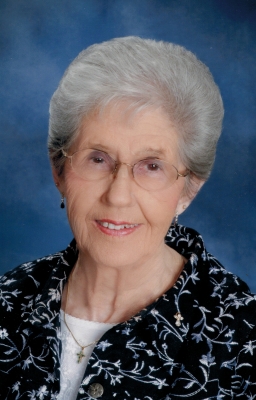 Dorothy Grace Skillings, age 93, of Menomonie, passed away peacefully on Sunday, September 18, 2022, at Colfax Health & Rehab in Colfax.
Dorothy was born May 26, 1929, in the township of Spring Brook, Dunn County. She was the daughter of Philip and Grace (Styer) Brehm. Dorothy married Donald Skillings on August 8, 1951, at St. Joseph Catholic Church in Menomonie.
Don and Dorothy farmed in Downsville until 1955, when they moved to Janesville Wisconsin.
Don and Dorothy returned to Menomonie where she worked as a seamstress at Sandy Lee manufacturing company for 25 years, until she retired. She then worked for Coffin's department store in Menomonie for several years.
Don and Dorothy traveled the United States in their motorhome until settling back in Menomonie in 2008. She enjoyed traveling with Don and keeping him on track down the long roads with her trip tics in hand. She also enjoyed crocheting, quilting and journaling. She took pleasure in spending time with her children, grandchildren, great grandchildren, family & friends.
A special thank you to Mayo Hospice for their assistance with Dorothy and her neighbors for their care and friendship throughout her 14 years of residency at the Howe apartments.
Dorothy is survived by her three children, Cynthia (Barry) Sorenson, Dorian (Mary Burns) Skillings and Colleen (Jeff) Mensing, all of Menomonie; seven grandchildren; Cary (Ben) Fox, Craig (Karisa) Sorenson, Christa (Dan) Soules, Darcie (Jason) Kramber, Dustin (Nicole) Skillings, Derrick (Michaela) Mensing, Ashley (Eric) Stuart; 15 great grandchildren; Skyler, Landon, Davany and Hayden Fox, Caden and Cage Sorenson, Morgan and Cody Soules, Sam, Addison and Izabella Kramber, Jessalyn, Delaney and Conner Mensing and Levi Stuart; four sisters, Mildred (Laverne) Mousel of Rockford Illinois, Theresa Knutson of Menomonie, Louise (Wayne) Davies of Madison, Sylvia (Kenneth) Kochersperger of Janesville; one brother, Jerry (Donna) Brehm of Janesville.
She is preceded in death by her parents, husband, Donald in 2014, a brother, James Brehm, a brother-in-law, Clifford Knutson and three grandchildren, Sammie Jo, Bobbie Jo, and Billie Jo Mensing.
Funeral services will be held at 11:30 AM Friday September 23, 2022, at St. Joseph Catholic Church with Rev. John Mano officiating. Burial will be in the church cemetery.
Visitation will be held from 4:00 to 7:00 PM Thursday at Rhiel Funeral Home in Menomonie and one hour prior to the services at the church on Friday