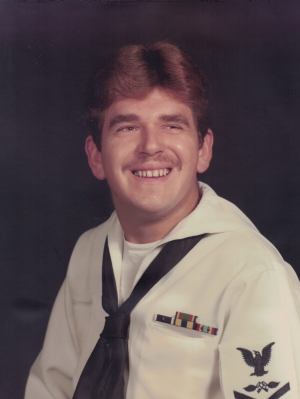 Paul J. Parker, age 65 of Durand, formerly of Red Wing, MN, died Thursday, September 15, 2022 at the St. Cloud VA Health Care System in St. Cloud, MN.
Paul was born on June 4, 1957 in Seattle, WA. He was the son of Rev. Keith C. and Lois M. (Gustafson) Parker. At a young age, Paul moved with his family to Eastern Minnesota and later to Roger City, MI. Paul graduated from Roger City High School in 1976. After high school, Paul joined the U.S. Navy where he served for 14 years in Hawaii and the Philippines, and he was honorably discharged. He then served in the reserves until his retirement. Paul married his wife Lydia in 1993. Paul lived in Red Wing and worked at Treasure Island Resort for many years. Paul and Lydia moved to Plum City for a short time before moving to Durand where he remained the rest of his life.
Paul was an avid sports fan, he was recently converted to a Green Bay Packers fan. He was well known for his puns and jokes and had a passion for animals, especially dogs. Paul had deep faith in his religion. Paul loved to spend time with family and friends, especially his grandchildren.
Paul is survived by his wife, Lydia; children, Jonathan of Mineral Ridge, OH and Catherine Parker of Elmwood; step-children, Lea Walls of Farmington, MN; Jeremiah (Lisa) Groth of Cannon Falls and Benjamin (Tammy) Sarazin of Red Wing, MN; 10 grandchildren, Kaitlyn; Cortney; Kody; Tiajannah; Mason; Mikayla; Aspen; Zaryana; Elise and Liam; two great grandchildren, Evelyn and Augustus; siblings, Cindy Parker of Columbia Heights, MN and James of Columbia Heights, MN; nieces, nephews, other relatives and friends. He is preceded in death by his parents, two grandchildren in infancy.
Memorial Services will be 1:00PM Saturday, September 24, 2022 at the Riverview Community Center, 606 W Madison St, Durand. Rev. Doug Vick will officiate. A meal and reception to follow.
Rhiel Funeral Home & Cremation Services, Durand, is serving the family.