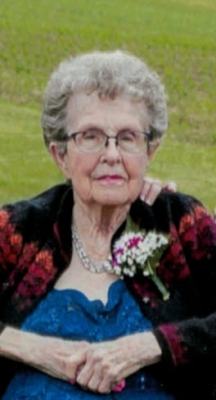 Jean Gladys (Lewis) Gasteyer, age 94, of Elmwood, passed away on Wednesday, September 21, 2022 at The Neighbors of Dunn County Nursing Home in Menomonie, WI. She died peacefully in her sleep. Jean had been a resident at The Neighbors since 2017.
Jean was born on the family farm in Rock Elm to Bessie (Pease) and Russell Lewis. She attended the Elmwood Area School and went on to graduate from the Minnesota Business School in Minneapolis and work at Northwest Airlines. Jean met her future husband, William (Bill) Gasteyer, at a dance in Ellsworth. While dating and dancing, Jean and Bill made many lifelong friendships. They married on June 24, 1952. They had three children together: Catherine, William (Bill) and Jeffrey.
Jean and Bill bought a farm in the Weber Valley between Elmwood and Eau Galle. They built a new house, added farm buildings, and remodeled the barn. Over the years, they continued to make additions and improvements while Jean beautified the farm with her love of flowers. Jean helped to raise calves, chickens, and baby pigs in their early farming years. Jean was also an active 4-H parent, supporting her three children with their summer county fair projects and winter programs. She helped them learn how to manage multiple projects and develop farming and homemaking skills. Jean was a role model for commitment and putting forth the effort to do one's best.
Jean was a passionate gardener. Her extensive knowledge and skills with flowers, fruit, and vegetables combined with endless hours in her gardens yielded bountiful results. When age and arthritis stopped her work, she would tour the farm and surrounding land on her golf cart, following the cycles of farm life as long as she was able. Jean loved pets and birds. She cherished her pet dogs, who were her constant companions, including riding in the golf cart. She especially loved bluebirds and cardinals.
Jean was her husband Bill's primary caregiver after he suffered from a major stroke in 1983 that forced him to retire from farming. With the support of Jean and their son Jeff, Bill was able to remain engaged with the farm for many years. Jean loved the time she spent with her grandchildren, Kyle, Brooke, and Ted. Grandma's house was a place to avoid getting chores done on time; eating her baking and watching videos on the basement TV.
Jean is survived by her three children: Catherine Gasteyer (Eugene Westling) of New York, NY; William Gasteyer of Bozeman, MT; and Jeffrey (Diane) Gasteyer of Elmwood. She has two grandchildren: Brooke Neuman (Kevin) and Theodore Gasteyer Westling (Maryclare). Jean also has one great grandchild: Waverly Orla Westling, daughter of Theodore and Maryclare. Jean was preceded in death by her parents, brothers, Robert and Gordon Lewis , husband, Bill, and beloved grandson, Kyle Gasteyer.
A visitation will be held from 3:00-4:00pm with a memorial service starting at 4:00pm on Sunday, October 23rd, 2022 at the Rhiel Funeral Home, Durand, WI. A gathering/lunch at the Orton Room/Corral Bar to follow service at 5:00-7:00pm.
Rhiel Funeral Home & Cremation Services, Durand, is serving the family.