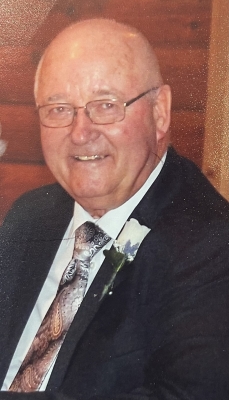 Roger C. Weber, age 83 of Elmwood, died Saturday, October 8, 2022 at Heritage of Elmwood Nursing Home in Elmwood.
Roger was born on March 16, 1939 on the Weber family farm in the Weber Valley of rural Elmwood. He was the son of Carl and Mamie (Seipel) Weber. Roger grew up on the family farm, attended Eau Galle Elementary School and graduated from Durand High School in 1957. He married Barbara Wagner on October 4, 1958 at Peace Lutheran Church in Menomonie. After marriage, they lived in rural Elmwood where they raised their family. After high school, Roger took a job with Rhiel Funeral Home in Elmwood for a short while before taking a job with Payne and Dolan Paving company. Roger then took a job with the Durand Implement (Tractor Central) which became his career job until retiring. After retiring, Roger took a job driving school bus and mowing for the Elmwood School District.
Roger enjoyed spending time outside snowmobiling, trap shooting, going to the cabin and in his younger years, hunting in Northern Wisconsin. He enjoyed attending sporting events, from his grandchildren's sport to Eau Claire Express baseball games. Roger was active in the Wisconsin Snowmobiling Associations, serving on the county board.
Roger is survived by his wife of 64 years, Barbara; children, John (Linda) of Baldwin; Laurie (David) Baier of Eau Galle and Lisa (Jesse) Thurmes of Bay City; five grandchildren, Chad (Emily); Angie (Rob); Cody (Staci); Mattie and Sam; six great grandchildren, Colten; Clayten; Reid; Rowen; Maci and Cixton; three brothers, Gary (Joan) of Eau Claire; Leroy (Geraldine) of Cornell and Jim (Donna) of Eau Claire; sister-in-law, Jean LaRock of Florida; nieces, nephews, other relatives and friends.
Funeral Services will be 11:00AM Friday, October 14, 2022 at St. Peter's Lutheran Church in Elmwood. Burial will be in the Weber Valley Cemetery. Visitation will be from 4:00PM-8:00PM Thursday at the funeral home in Elmwood and one hour prior to services at the church on Friday.
Rhiel Funeral Home & Cremation Services, Elmwood, is serving the family.