Hilary F. "Larry" Pichler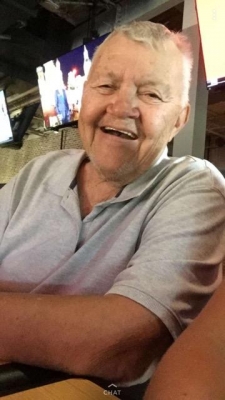 Hilary F. "Larry" Pichler, age 85 of Durand, died Saturday, October 8, 2022 at Mayo Clinic Health Systems-Eau Claire surrounded by his loving family.
Larry was born on December 9, 1936 on the Pichler home farm in Rock Falls. He was the son of John and Marie (Feda) Pichler. Larry grew up on the home farm and attended country school in rural Rock Falls. Larry and his brother Cliff joined the U.S. Army and served stateside until being honorably discharged. After returning home, Larry took a job with Bauer Built, where he worked for over 46 years before retiring. Larry married Evelyn Bauer on July 11, 1959 at Holy Rosary Catholic Church-Lima in Durand. After marriage, they made their home in Durand where they raised their family.
Larry liked the Green Bay Packers, going to the casino, playing cards and telling jokes. He also enjoyed volunteering his time with the church, playing Santa at a day care in Eau Claire and delivering meals to people in need. Most of all, Larry loved spending time with his family, especially his grandchildren and great grandchildren.
Larry is survived by his wife of 63 years, Evelyn; three children, Danny of Princeton, TX; Dawn Pichler of Mondovi and Donna (Bruce) Kern of Durand; nine grandchildren, Brittany (Matt); Briana (Kyle); Bethany (Jordan); Jacob (Vanessa); Janelle (Jordan); Hunter; Kylar; Emily and Brad; 14 great grandchildren, one brother; David (Arlene) of Eau Claire, sister-in-law; Armella Pichler of Mondovi, nieces, nephews, other relatives and friends. He is preceded in death by his parents, three brothers, James; Cliff and Peter Pichler and two sisters, Bergetta O'Keefe and Eileen Sykora.
Funeral Mass will be 11:30AM Friday, October 14, 2022 at St. Mary's Catholic Church in Durand. Burial will be at Holy Rosary Catholic Cemetery-Lima in Durand. Visitation will be from 10:30AM until the time of services at the church on Friday.
Rhiel Funeral Home & Cremation Services, Durand, is serving the family.