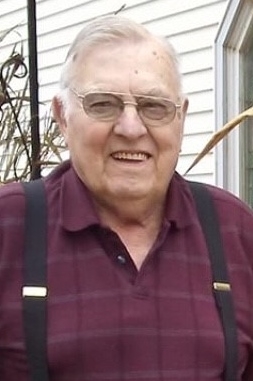 STANLEY IRVING BROBERG, age 93, passed away on Sunday, October 9 with his family at his side. Stanley was born on May 1, 1929, at home on the family farm in Rock Falls to Sever and Ida (Hovde) Broberg. He grew up there with his 3 brothers and 3 sisters and where he also raised his family.
Stanley was a lifelong member at Rock Creek Lutheran Church in rural Rock Falls. He attended White Block Elementary School and graduated from Durand High School in 1947. After many trips across the river in Caryville on the ferry, Stanley married Doris Logslett on December 30, 1950 at Holden Lutheran Church in rural Colfax.
Stanley worked for the CMSTP&P and SOO Line Railroads as a section foreman for many years as well as operating the family farm. He retired from railroading on May 28, 1993. He spent many years milking cows, raising hogs, and spent a lot of time on tractors planting and harvesting crops, baling hay, and cultivating corn.
Stanley loved life and enjoyed many different activities. He and Doris spent countless hours playing cards with friends and family. He attended multiple church and school programs and concerts for children and grandchildren. Stanley loved seeing his grandchildren and great grandchildren and they loved him.
He was an active member of Rock Creek Lutheran Church, serving on various committees, church council, and playing dartball. He also enjoyed raising flowers in his retirement years and created beautiful spots of color throughout the yard. Stanley was a lover of books and established great rapport with the local librarians! Weekly trips to the library were a must. Stanley enjoyed traveling and was fortunate to make the trips to Alaska and Norway twice. He enjoyed good food and especially enjoyed the fall menu – lutefisk and lefse!
Stanley is survived by his children, Brenda (James) Bauer, Diane Knudsen, David (Jim Sass) Broberg, Linda Kerkhoff, Becky (Pete) Richardson, Colleen (Randy) Weiss, and Caryl (Randy) Keys, 12 grandchildren and 19 great-grandchildren, 3 step-great grandchildren, one sister, Ruth Hayden and a sister-in-law, Carol Broberg.
He is preceded in death by his parents, wife Doris, granddaughter Bethany Bauer, sons-in-law Mark Kerkhoff and Doug Knudsen, David Lien; 3 brothers Gordon (Elsie), Leslie (Viola), Russell (Katie), 2 sisters – Mildred (Bob) Kurtz and Dorothy (George) Kent and brother-in-law, Clem Hayden.
Funeral services will be at 11:00 am on Monday, October 17 at Rock Creek Lutheran Church in rural Rock Falls with Rev. Bethany Walker officiating. Burial will be at the Rock Creek Meridean Cemetery. Visitation will be held on Sunday, October 16 from 4-7 pm at Rhiel Funeral Home in Durand and one hour prior to services at the church.
Rhiel Funeral Home & Cremation Services, Durand, is serving the family.