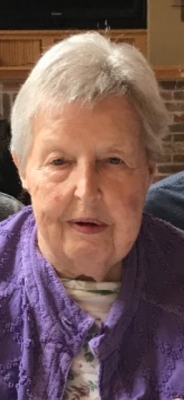 Elaine "Chuck" E. Fesenmaier, age 100, of Elmwood, died Wednesday, October 19, 2022, at the Heritage of Elmwood Nursing Home in Elmwood, with her family by her side.
"The day she dies a piece of you will die too. You'll learn this is a piece that you cannot fill. It is a piece that cannot be replaced by anything, ever."
Elaine was born August 31, 1922, in the Hatchville Cheese factory, in Dunn County. She was the daughter of Lester and Emma (Bartholomew) Webb and grew up in that community. Elaine graduated from Elmwood High School in 1938 and with her identical twin sister, Lorraine "Ole" attended Dunn County Normal in Menomonie. After graduating she began her teaching career in a country school. Elaine married Andrew Fesenmaier January 7, 1943, and celebrated 63 years of married life. Because of her love of teaching, after raising her family, she returned to her teaching career. Elaine along with her twin sister, Ole, taught 2nd grade in the Elmwood School District for 20 years.
Elaine enjoyed gardening, sewing clothes for her family, crocheting and spending time at the cabin with her family and friends. One of her biggest joys and accomplishments was turning 100.
Elaine is survived by her children, Rosemary (Joe) Bates, Judy (Barry) Smith, Susan Fesenmaier Bennett, Greg Fesenmaier and Joe (Jenny) Fesemaier; 11 grandchildren, 12 great grandchildren and one great great granddaughter and several nieces and nephews.
She is preceded in death by her parents, husband, Andrew; two grandsons, Chris Rongholt and John Fesenmaier, a son-in-law, Lloyd Bennett; two sisters, Lorraine Mulheron and Gwenneth Rudiger and a brother, Gerald Webb.
The family would like to express their gratitude to the staff at the Heritage of Elmwood and St. Croix Hospice for the wonderful care given to Elaine.
In lieu of flowers, memorials may be made to the Elmwood Public Library.
Memorial services will be held at 11:00 AM Friday October 28, 2022, at Sacred Heart Catholic Church in Elmwood with burial in the church cemetery.
Visitation will be held from 9:30 AM until the time of the services at the church on Friday.