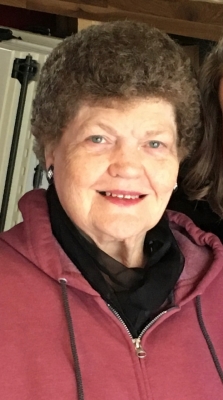 Delores E. Bauer, age 78, of Durand died Thursday, October 27, 2022 at her home in Durand with her family by her side.
Delores was born on June 6, 1944, the 10th of 12 children to John H. and Esther (Stomprud) Olson. She grew up in the Eleva area and graduated salutatorian from Central High School in 1962. She attended the "old" Chippewa Valley Tech school for only five weeks and was called to a job as secretary for the law firm of Hibbard and Evans.
Delores met Duane A. Bauer at a dance at Fourniers Ball Room in Eau Claire in September of 1963. They danced all over for many years to the Rhythm Playboys. They married at Holy Rosary Parish-Lima on September 18, 1965. They lived on a dairy farm near Duane's folks where they raised their family. Delores had worked for the law firm for over four and a half years until they started their family.
Delores was active in Holy Rosary Parish and school serving as group leader, president and on the school committee. She was a CCD teacher and teacher's aide for many years, and distributed fluoride, checked papers, typed contracts, weighed and measured students, did calligraphy on confirmation and first communion certificates, and helped sew stage curtains for the gym.
Duane and Delores sold their cows in 1986 and in 1987, Delores started working at the Chippewa Valley Hospital in Durand. She said she was going to work a year or two until Duane decided what he was going to do… but she ended up being there for 25 and a half years.
Delores enjoyed many hobbies – playing the guitar and singing, drawing, doing crossword puzzles and word searches, writing poetry, reading, and sewing quilts for family, friends, and the Lima Fall Festivals.
Delores is survived by her husband, Duane, of 57 years, and her three children, Douglas (Summer), Darrin (Cam Nelson), and Dixie (Antonio), also two wonderful grandchildren, Devany and Drae Bauer, and Zack Nelson. She is further survived by three sisters; Florence (Duane) Deutscher; Edith (LeRoy) Cleasby; and Carol Sell; and one brother Dennis (Sharon) Olson; and many nieces and nephews.
She is preceded in death by her parents and five sisters; Leone, Florence, Violet, Doris and Lorraine; and by two brothers; Russell and Jerome.
Funeral Mass will be 11:30AM Thursday, November 3, 2022 at Holy Rosary Catholic Church-Lima in Durand, Rev. Timothy Reither will officiate. Burial will be in the church cemetery at a later date. Visitation will be from 4:00PM-7:00PM Wednesday at the Rhiel Funeral Home in Durand and one hour prior to services at the church on Thursday.
Rhiel Funeral Home & Cremation Services, Durand, is serving the family.