Lawrence A. "Larry" Plumer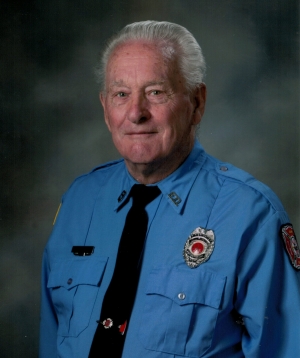 Lawrence A. "Larry" (Pit) Plumer, age 85 of Durand, died peacefully Tuesday, November 15, 2022 at his home in Durand.
Pit was born on August 13, 1937 on a farm right outside Durand. He was the son of Nathan and Helen (Sylvester) Plumer. Pit grew up in Durand and graduated from Durand High School. While in high school, Pit was active in sports and class leadership. Sports played a big part in Pit's life, playing coaching and refereeing. Pit married Bette Davis, together they had 5 children and later divorced. Pit worked for Tri-City Dairy delivering milk to businesses, schools and homes, maintenance at the Durand Methodist Church and retired in 2001 from St. Mary's Catholic Church. Pit married Joan Bauer on September 24, 1977 at Holy Rosary Catholic Church-Lima, together they had two children. Pit started digging graves in 1978. A job that he continued until the time of his death at numerous area cemeteries. Pit's devotion to the City of Durand was evident in the various titles he had with the city serving as council member and president of the council. He was the person people turned to when they had a question about the city or the city cemetery. Pit also worked for Floyd Rhiel and his ambulance service. In 1971 he continued with the Durand Ambulance Service when the City of Durand took it over. Pit served as Director of the Ambulance Service for 24 years.
Pit started his journey in fire service by joining the Durand Fire Department in March of 1966. In all he served 56 years on the department, 32 of those as Chief. He also was the fire inspector his entire career on the fire department. During his time on the department, Pit served on the Board of Directors for the Wisconsin State Firefighter's Association, serving the President of the Board for 34 years. His sister, Beverly Weissinger was his secretary for many years. While on the board, he was a leader in making many changes in the fire service for volunteer and full-time departments. He made many trips to Madison and Washington D.C. all in the name of fire service. Highlights of Pit's accomplishments were instituting the firefighter license plates, working with five different Wisconsin Governors and the volunteer firefighter's retirement program. Pit went to Emmitsburg and Baltimore, MA for many years and read FEMA Grants from fire departments across the country. He also met with Senators and Representatives in Washington D.C. for 18 years discussing concerns in the fire service. Pit served on the Chippewa Valley Technical College Fire Service Advisory Board for many years advancing fire service education. Over the years of Pit's career he was bestowed numerous honors and awards some of the biggest were National Volunteer Fire Council Lifetime Achievement Award in 2012, American Red Cross Lifetime Achievement Award, Wisconsin State Firefighter of the Year also Wisconsin State Firefighter's Association Lifetime Achievement Award. During his time as Chief of the Durand Fire Department, Pit built and created a progressive and positive culture that will continue into the future.
When Pit wasn't devoting himself to work or the EMS and fire service, he enjoyed being at his favorite spot the camper in Chetek. He enjoyed company and most of all fishing. Everyone on the lake knew where the fish were biting by simply looking for Pit and his cane poles. He also liked watching or listening to the Packers, Badgers and especially the Brewers and local teams. Pit also enjoyed playing cards
Pit is survived by his wife of 45 years, Joan; children; Rick (Tammy) of Hastings, MN, Deb (Rick) Traun of Plum City, Pat (Becky) of Hudson, Joe (Luanne) of Rosemount, MN, Laurie (Richard) Rieck of Maplewood, MN and Larry (Stacy) of Durand; 14 grandchildren, 19 great grandchildren, six siblings; Rose Prissel of Durand, Bob (Lindy) of Durand, Beverly (Junior) Weissinger of Durand, Kay (Lyle) Hayden of Mondovi and Ron (Andy) of Lake Holcombe; nieces, nephews, other relatives and friends. He is preceded in death by his parents, and his daughter; Peggy Plumer.
Funeral Mass will be 11:30AM Tuesday, November 22, 2022 at St. Mary's Catholic Church in Durand with Rev. Emmanuel Asamoah-Bekoe officiating. The Mass will be livestreamed on the Rhiel Funeral Home Facebook Page. Burial will be in the church cemetery. Visitation will be from 4:00PM-8:00PM Monday at the Rhiel Funeral Home in Durand. A public funeral procession with fire trucks will be Tuesday morning from the funeral home to the church will start at 11:10AM.
Memorials are preferred in Pit's name and may be made to the family for a future scholarship.
Rhiel Funeral Home & Cremation Services, Durand, is serving the family.