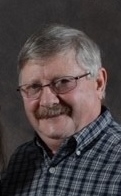 Gary J. Hanvelt age 73, of River Falls, died Monday November 21, 2022, at his home in River Falls.
Gary was born January 15, 1949, in Plum City. He was the son of Lyman and Audrey (Crain) Hanvelt and grew up in the Rock Elm area of Elmwood. Gary graduated from Elmwood High School in 1967. Gary married his high school sweetheart, Bonnie Fritz on February 8, 1969, at the Elmwood United Methodist Church, in Elmwood. Gary attended Chippewa Valley Technical School in Eau Claire for auto mechanics and became a GM Certified Mechanic. After marriage they moved to River Falls where they made their home. Gary worked as an auto mechanic for Moodys Chevrolet in River Falls for approximately 15 years. Gary then went to work for Andersen Windows in Bayport, MN, until he retired in 2007.
Gary loved traveling with Bonnie to car shows with his National Points Car which he restored, a 1970 Chevy Chevelle SS. He enjoyed working on anything mechanical. If Gary couldn't fix it, it wasn't broken. He was a proud stockholder of the Green Bay Packers. Gary loved to spend time with his family and friends, especially his grandchildren
Gary is survived by his daughter, Kristi (Joe) Sharon of River Falls; three grandchildren, Ryan, River and Kane; two brothers, John (Dorothy) of Frederic and James (Dianna) of Pomona, MO; nieces, nephews other relatives and friends.
He is preceded in death by is parents, his wife Bonnie in 2019.
A Celebration of Life will be held on Gary's birthday, from 2:00 to 5:00 PM Sunday, January15, 2022, at the Rhiel Funeral Home in Elmwood.